Psychiatry and Behavioral Sciences Program Highlights
Highlights and news for the Psychiatry and Behavioral Sciences Program.
---
November 09, 2023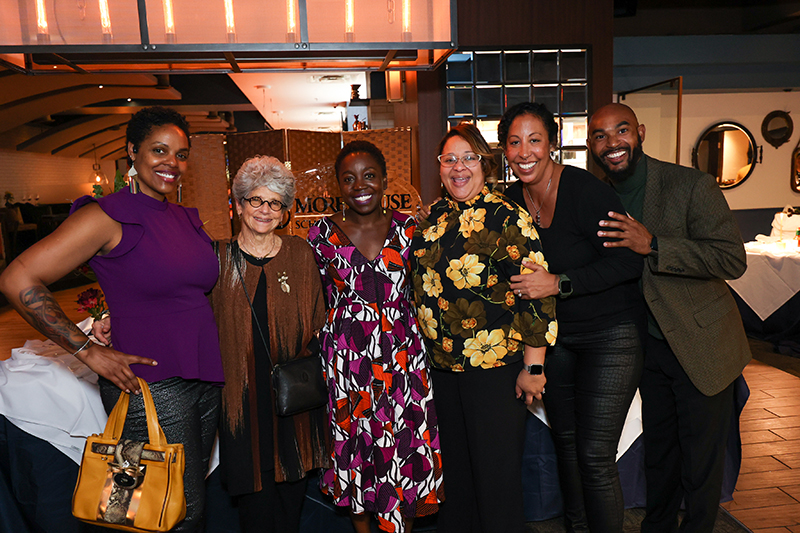 From left to right: Dr. Glenda Wrenn Gordon, Core Faculty; Dr. Sally Herbert, Retired Core Faculty & Adjunct Faculty; Dr. Sarah Vinson, Psychiatry Department Chair; Ms. Michele Baskett, Assistant to the Chair; Ms. Tiffany Burns, Associate Director of GME
On the evening of Wednesday, November 09, 2023, MSM Psychiatry Department celebrated BIG with our Psychiatry program contributors. The purpose of the event to was to show our appreciation for the partners who have contributed to our department's success and growth - past, present, and future. The event was a resounding success bringing the multiple units of our Psychiatry program together for networking and, even more importantly, fellowship. The people in the place included current MSM medical students, current residents and fellows, salaried and adjunct faculty, staff, MSM residency and fellowship Alum, MSM community partners, and MSM faculty and staff from our inter-departmental collaborators. Please join us in showing your appreciation for their contributions in this season, thanks. And check out the events page for more images.
September 23, 2023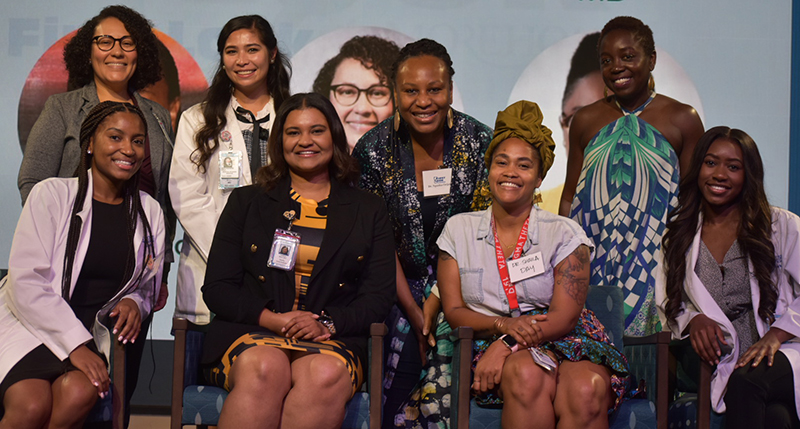 Top, from left to right: Dr. Danae Evans, Dr. Mackenzie Wall, Dr. Ngozika Orjioke, Dr. Sarah Vinson
Bottom, from left to right: Dr. Tamiah Lewis, Dr. Jessica Miller, Dr. Shaila Day, Dr. Yakia Clark
Members of our Department of Psychiatry and Behavioral Sciences were enthusiastic contributors to the 12th Annual MSM First Look on Saturday, September 23rd. Our PGY-1 resident, Dr. Terrance Jenkins was a speaker for Black Men in White Coats. Also,Dr. Danae Evans - Child and Adolescent Psychiatry Fellowship Program Director and the Behavioral Health Lead at the SHWC, along with Dr. Sarah Y. Vinson - Psychiatry and Behavioral Sciences Department Chair, were participants in the American Medical Women's Association panel. It was great to talk to potential students and share the stage with our valued colleagues and medical students at MSM.
September 13, 2023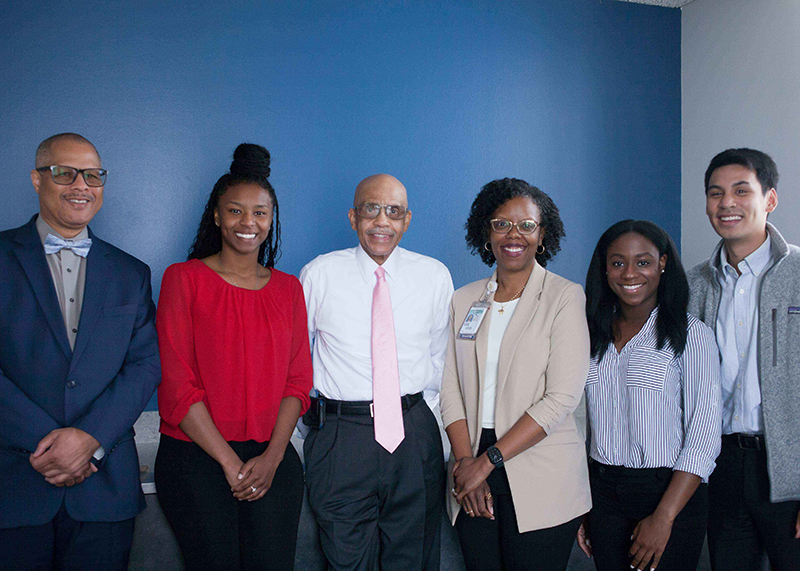 Picture from left to right: Christopher Almond, Atarah Redmond, Dr. Quentin Smith, Dr. Nicole Cotton, Dr. Kristian Jones, Dr. Christopher Villongco.
Christopher "Chris" Almond is the Program Manager for Undergraduate Medical Education (UME) in the Department of Psychiatry and Behavioral Sciences. Ms. Atarah Redmond, the UME stated that Mr. Almond is proactive and intentional in his leadership; as a mentor, he has shown great compassion and discipline. The UME program has grown exponentially under his tutelage." Dr. Smith, revered MSM educator, lauded Mr. Almond's support and advocacy for students and described him as the "consummate professional." And Dr. Nicole Cotton, the department's Director of UME, shared, "Mr. Almond has a wealth of knowledge regarding educational management. As soon as an issue arises in UME, he has already reviewed the problem from all angles to mitigate disruptions and secure its resolution. He is passionate about ensuring students have what they need to succeed, and he is an invaluable asset to the UME team and the department."
Chris earned a BA from Morehouse College in Business with a concentration in Marketing and an MBA with an International Business concentration at AIU. Before he transitioned to higher education, he held positions BB Sales and Marketing Communications with Konica-Minolta, Xerox, and MCI WorldCom. The recession that followed the attacks on our country on September 11, 2001, led to a career change to higher education in 2003. While at AIU, he was asked to create a program to increase student retention and graduation rates. His model was so successful that it was replicated throughout all AIU's campuses worldwide. Chris trained colleagues at several campuses. In 2009, Chris moved to Georgia State University "GSU" as a Senior Advisor for MBA students. In 2011, he was asked to create and lead a retention and graduation program for the second time in his career. His contributions helped GSU to achieve record graduation rates annually. GSU received worldwide recognition for its efforts and became a model institution throughout the US and worldwide.
Chris joined the Psychiatry department at MSM in 2019. His first major initiative was moving the UME team away from paper records to electronic. He created reports to track enrollment trends in our third and fourth-year students to better plan for affiliate site and preceptor needs. He also monitors and tracks NBME scores to identify areas where students require additional help. Chris collaborates with the Offices of Educational Outcomes & Assessment and Undergraduate Medical Education to meet LCME requirements. He also monitors and reports on faculty and course evaluations. He is a trainer and mentor for the UME Program Coordinator. He is a trainer and mentor for the UME Program Coordinator. Chris created an onboarding plan and Standard Operating Procedures for the UME team.
Mr. Almond was born and raised in Atlanta, Georgia. Chris supports all the local Atlanta sports teams and has at least a casual interest in all sports. He is married with three children and six grandchildren. His oldest daughter earned a degree in Psychology at GSU and works for the Clayton County District Attorney. His youngest daughter (and middle child), Tierra graduated from UGA with a degree in Consumer Economics and is an executive with Macy's. His son Christopher, "CJ" is a high school senior. He is an honor roll student currently applying to college and pursuing a career in auto racing.
Chris is completing a PhD in Education Law at Liberty University. He has reached ABD status, and our department looks forward to celebrating this remarkable accomplishment with him soon!
September 13, 2023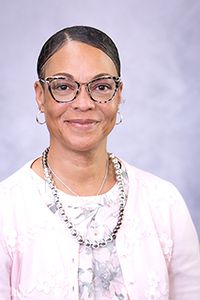 Ms. Vanessa Wilder, Financial Analyst II, with the Psychiatry and Behavioral Science Department, has been accepted in the inaugural cohort of the Morehouse School of Medicine Innovation and Inclusive Leadership Academy (MIILA) sponsored by the Office of Diversity and Inclusion. Through her engagement with MIILA, she will have the opportunity to enhance her leadership skills, reflect on her strengths and abilities as a professional, and create or refine strategies to improve her work environment.
What is MIILA?
The Morehouse School of Medicine Inclusive Leadership Academy is an eight-week program that provides aspiring and emerging leaders with the tools they need to create positive change in their professional communities. Participants will have the opportunity to engage in a hybrid leadership development training program. This program is designed to empower and equip emerging leaders with the skills and resources necessary to make a positive impact on our institutional culture and infrastructure.
September 13, 2023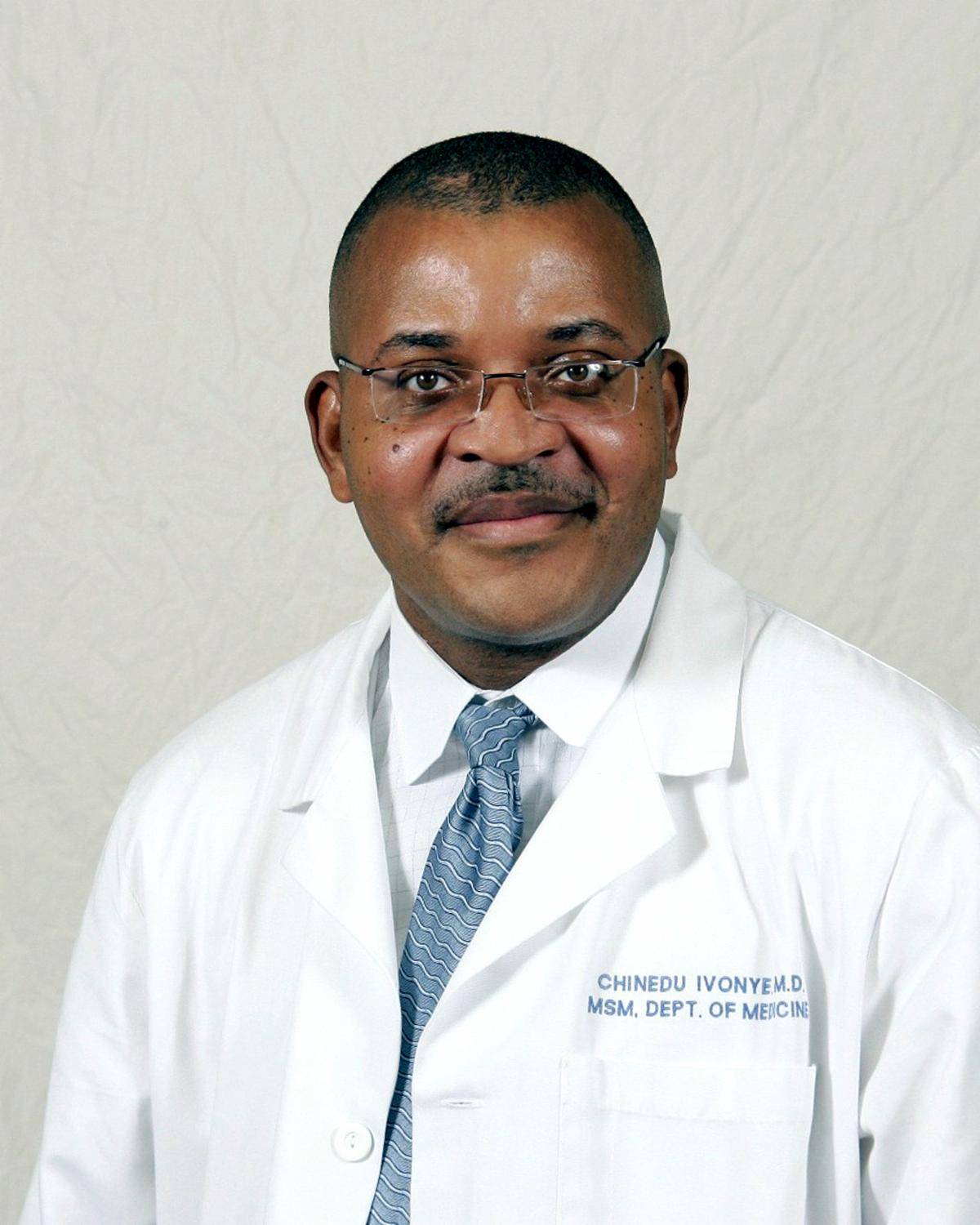 Dr. Chinedu Ivonye, Associate Dean of Graduate Medical Education and ACGME Designated Institutional Official for MSM, is to be honored and receive Georgia American College of Physicians Highest Award – The Laureate Award. "The Laureate Award honors those Fellows and Masters of the American College of Physicians who have demonstrated by their example and conduct an abiding commitment to excellence in medical care, education, or research, and in service to their community, their Chapter, and the American College of Physicians." Dr. Ivonye has been a member of the Georgia Chapter of The American College of Physicians (GA ACP) for 23 years. Join us in celebrating Dr. Chinedu Ivonye on this great achievement.
He will be presented the award at the GA ACP meeting in Savannah, GA on October 7, 2023 during the Awards and Recognition Ceremony.
Psychiatry Department Highlight: Dr. Jasmine Taylor
August 09, 2023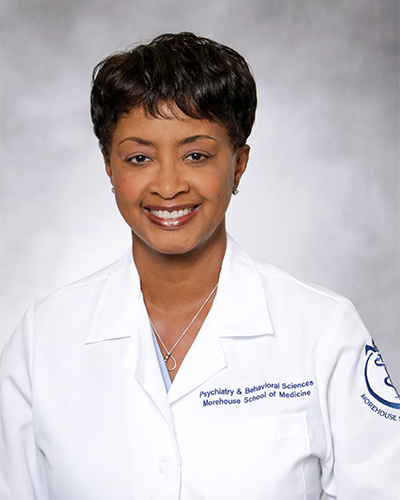 Dr. Jasmine Taylor has had an extensive career in medicine in both the private and academic sectors. She has practiced psychiatry for over twenty years. As an Associate Professor at Morehouse School of Medicine, Dr. Taylor provides patient care through the Integrated Health Service program and has served community clinics within the Grady Health Care System since 2018. Most recently, she is the new director of the Morehouse Healthcare Integrated Behavioral Health Service.
From 2014-2018, Dr. Taylor provided care to hundreds of disadvantaged patients in the county mental health centers of Fulton, Cobb, and DeKalb, delivering psychiatric care of the highest quality, with compassion and respect.
From 2002-2014, Dr. Taylor served as Associate Vice Chancellor for Multicultural Affairs at University of Mississippi Medical Center. In this capacity, she led efforts in working toward a more diverse student body and workforce. She was responsible for the institutional diversity strategy and for providing cultural sensitivity training opportunities for students and faculty.
She is a well-regarded physician and teacher and has been the recipient of a number of honors and awards. Most recently, she was named a Distinguished Fellow of the American Psychiatric Association joining an elite group of psychiatrists with this honorary distinction who continue to make significant contributions to the field of psychiatry. Additionally, Dr. Taylor was selected to participate in the Leadership Cobb program 2018-2019. Selection to this program is highly competitive and fifty members are selected each year from a pool of several hundred applications. The goal of this program is to provide community leaders with in-depth exposure to the social, political and economic needs of Cobb County, a major population and geographic component of the Metropolitan Atlanta area. The Mississippi Business Journal has named her one of Mississippi's 50 Leading Business Women. She also received a Certificate of Recognition from the Board of Trustees of State Institutions of Higher Learning, which recognized her accomplishments as a role model and advocate for diversity. Dr. Taylor served on as the Group on Diversity and Inclusion, Southern Region Representative, American Association of Medical Colleges in 2014.
And her colleagues at MSM sing her praises. "Working with Dr. Taylor is a joy. She is great at building consensus within teams and identifying strategies to improve workflows and communication. She is highly proficient at implementing collaborative care best practices and is especially good at engagement of both her patients and her colleagues," stated Dr. Glenda Wrenn. And Dr. Nicole Cotton added, "Dr. Taylor is an excellent example of a clinical leader. She models interdisciplinary collaboration. She provides stellar care to patients and is a mentor to residents and colleagues."
Dr. Taylor is married to Dr. Herman Taylor and they have three adult children and two fur babies.
MSM Psychiatry Residents Receive Resident Humanism in Teaching Award
July 5, 2023
Psychiatry Residency's very own PGY-2, Dr. Roman Tate and PGY-3, Dr. Joshua Omade were honored as Resident Humanism in Teaching Awardees. They were chosen by the MSM Class of 2025 and recognized at the Student Clinician Ceremony. The awards are given in recognition of outstanding residents who have demonstrated particularly strong teaching skills and served as role models for compassionate, relationship-centered care. We're beyond proud of how these young psychiatrists are representing the department and our profession.
MSM Faculty Speak at Inaugural Men's Health & Wellness Forum
June 16, 2023
Pictured from left to right: Dr. Quentin Smith, Dr. Elizabeth Ofili, Dr. Brian Rivers.
In observance of Men's Health Month, on June 16, 2023, the City of Atlanta Department of Aviation at Hartsfield-Jackson International Airport held its inaugural Men's Health & Wellness Forum for the department's male employees. The event included a motivational speaker, a live cooking demonstration, lunch and a panel discussion featuring three MSM faculty members, including Psychiatry's Own Dr. Quentin Smith to address mental health.
MSM Faculty Featured in March 2023 Edition of The American Psychologist
March 31, 2023
Dr. Kisha Holden, our department's Director of Research and Scholarship, is a guest co-editor for the March 2023 special issue of The American Psychologist - the flagship academic journal of the American Psychological Association. The March issue is centered on health equity in which Dr. Holden was also a contributor to the article "How Psychologists Can Help Achieve Equity in Heath Care: Advancing Innovative Partnerships and Models of Care Delivery."
Please Welcome the Incoming Resident to the Psychiatry Residency Program
March 17, 2023
On Friday, March 17, 2023, Morehouse School of Medicine's Psychiatry Residency Program announced the incoming residents for the upcoming academic year. We are happy to introduce you to our incoming interns for 2023. We are excited to be a part of their training in Psychiatry as they embark upon this next stage of their careers.
MSM Faculty Member and Psychiatry Residency Alumni Accepted into Research Colloquium for Junior Psychiatrist Investigators
March 1, 2023
MSM faculty member psychiatry and residency alumni, Christopher Villongco, MD, has been accepted into the APA's Research Colloquium for Junior Psychiatrist Investigators. The program has been existence 1996 and is sponsored National Institute on Drug Abuse, APA Foundation, and American College of Neuropsychopharmacology (ACNP) with the participation of many senior psychiatrist researchers and chairs of departments of psychiatry across the country as mentors. The program aims is to strengthen and diversify the psychiatrist-scientist workforce and Dr. Villongco was chosen after a competitive application process.
MSM General Psychiatry Residency Alum Dr. Chidi Wamuo's Professional Journey Highlighted in Psych News
February 28, 2023
Though MSM General Psychiatry alum Dr. Chidi Wamou started off as an intern in MSM's Surgery Residency program, when the need for upstream, mental health based interventions became critically apparent, he dramatically shifted course. After accepting that his passion was to address the mental issues in marginalized communities prior to repairing with a scalpel, he re-applied in psychiatry and matched into our General Psychiatry training program, where he made many contributions to the residency. Now a child psychiatry fellow at Boston Children's, Dr. Wamuo continues to collaborate with MSM faculty and residents, including a well-received presentation at the APA Mental Health Services last fall along with mental health advocate Micah Pearson and our Interim Chair Dr. Sarah Y. Vinson.
MSM Representation at the 2023 Winter GPPA Meeting in Atlanta GA
February 21, 2023
Picture from left to right: Dr. Julian Lane (MSM Psychiatry Resident), Dr. Brittany Stallworth (MSM Psychiatry Resident), Dr. Sarah Vinson (GPPA President and Interim Chair for MSM Department of Psychiatry and Behavioral Sciences), Dr. Darron Lewis (MSM CAP Fellow), Dr. Joshua Omade (MSM Psychiatry Resident), Dr. Arianna Sewell (MSM Psychiatry Resident).
Morehouse School of Medicine's was well represented at the 2023 Winter GPPA Meeting in Atlanta, GA on February 17th and 18th. The event kicked-off with a Welcome from the GPPA President, Dr. Sarah Vinson. Dr. Vinson is also the Interim Chair for our Psychiatry Department as well as the program Director for the Child and Adolescent (CAP) Psychiatry Fellowship.
Our Program Director for the Psychiatry Residency Program, Dr. Deirdre Evans-Cosby was part of the discussion panel The Future of Psychiatric Education is Georgia in Good Hands: Fostering the Pipeline and Innovation in Residency Training. Also, MSM adjunct faculty member, Dr. Beverly Stoute, delivered a presentation, How Our Mind Becomes Racialized: Lessons from the Therapeutic Encounter.
Additionally, MSM Psychiatry Program faculty, alumni, residents ,and CAP fellows were in attendance.
MSM CAP Fellowship Has Matched for the 23-25 Academic Years
January 11, 2023
Our CAP Fellowship program matched all our openings for the upcoming academic year on Wednesday, January 11, 2023. We are thrilled to introduce the two great future fellows of Morehouse School of Medicine – Dr. Amber Navy from the University of Texas Houston's Psychiatry Residency and Dr. Linda Okai from the University of Maryland's Psychiatry Residency. Please take a moment to learn about our two new fellows joining us later this year.
MSM to host the 2023 Dewitt Symposium
Supported by our dedicated staff, our faculty, residents and fellows are engaged in a wide variety of scholarly pursuits. Additionally, our faculty hold numerous professional leadership positions at both regional and national levels. Spring of 2023, we're excited to host the DeWitt Symposium, which will be a research, advocacy and professional development event for URM Pscychiatry trainees from throughout the Southeast United States.
The DeWitt Symposium, named for the founding chair of our department, Dr. DeWitt C. Alfred, Jr., is an annual event at Morehouse School of Medicine that has traditionally been an internal event, including only our residents and fellow trainees and faculty. This year, we plan to bring in sixteen residents from other institutions for a scientific exchange and workshops regarding career progression and personal sustainability as a psychiatric physician. The program will be held in Atlanta, GA at the Kimpton Overland Hotel the evening of May 11th through the morning of May 13th, and include a number of activities to promote professional development, career planning, and mentorship both from peers and faculty. For more information, please click here.
MSM Grads Sweep the Boards
December 2022
Both General Psychiatry and Child Psychiatry boards are administered in the fall, with results released early winter. Every graduate of MSM Graduate Medical Education Programs, which include the General Psychiatry Residency and the Child Psychiatry Fellowship, passed their respective exams!! A huge congratulations to newly minted diplomates Drs. Kristian Jones, Christopher Villongco, Ashmeer Chima, Sheritta Carmichael, and Kamille Williams. Of note, Dr. Kamille Williams, now a Double Board Certified Adult and Child & Adolescent Psychiatrist, completed both her general psychiatry and her child & adolescent training at MSM, where she was one of the fellowship's inaugural graduates.
Morehouse Psychiatry at Georgia Child Welfare Summit
From left to right: Dr. Sarah Vinson, Interim Chair for Department of Psychiatry & Behavioral Sciences & CAP Fellowship Program Director; Dr. Karen Korsah, 2nd Year CAP Fellow; Dr. Kristen Carothers, Adjunct Faculty; Dr. Nicole Cotton, Undergraduate Medical Educator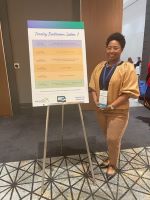 On Dec. 2, MSM Child & Adolescent Psychiatry Fellow Dr. Karyn Korsah, Adjunct Faculty Dr. Kristen Carothers, Undergraduate Medical Educator Dr. Nicole Cotton, and Interim Chair Dr. Sarah Y. Vinson, presented "Structural and Racial Trauma in Welfare-Involved Youth: Counting and Accounting for It" at the 2022 The Summit - Georgia's Child Welfare Conference. During this workshop. Our fellow and faculty discussed the structural and race-related traumas experienced by many foster care involved youth that are not accounted for in standard mental health evaluations. Their presentation was well-received by a professionally diverse audience of people in the child welfare, education and justice system. Here are links to the presentation and recommended online resources.
MSM Faculty to Participate in Seminar for Reproductive Justice
A Reproductive Justice Seminar will take place this Friday, December 2nd from 2:00 PM - 5:00 PM at the Grady Trauma Auditorium. MSM Psychiatry Interim Chair and CAP Program Director, Dr. Sarah Y. Vinson was the lead organizer for the event and will be the moderator. MSM Psychiatry Residency Assistant Program Director, Dr. Sheril Kalarithara will be one of the panelists. This program is a multidisciplinary examination of Reproductive Justice (RJ) and its inextricable connection to health equity. The seminar will begin with a Keynote Address by Professor Jill Morrison, JD, LLM, Director of the Women's Law and Public Policy Fellowship and Visiting Professor of Law at Georgetown Law. This will be followed by a multidisciplinary panel about various aspects of health and illness impacted by RJ. The event will conclude with local resource sharing and opportunities for informational exchange.
MSM Partners with Devereux Hospital of Atlanta
This fall, the Morehouse School of Medicine expanded its partnership with Devereux Hospital of Atlanta. From the inception of our planning process for the MSM Child and Adolescent Psychiatry Fellowship, Devereux, a residential hospital that provides care for children with severe mental illness, many of whom have involvement with the Department of Juvenile Justice and/or Child Welfare, has been a key fellowship rotation site. There is clear shared alignment between Devereux's work and MSM's mission of providing high quality care to people from marginalized communities.
In addition to Devereux being a fellowship rotation site, its National Chief Medical Officer, Dr. Yolanda Graham, is a member of our Adjunct faculty and serves as an Advisor to one of our current fellows. This year, Dr. Sheritta Carmichael, a graduate of our inaugural fellowship class, joined the MSM faculty with Devereux as her clinical assignment. This marks the first time that our institutions have collaborated at this level, and the partnership has been a resounding success. Dr. Carmichael jumped right in, not only providing patient care and leading treatment teams, but also teaching new learners from Morehouse School of Medicine - current first year MSM CAP Fellow Ogonnaya Ifeadike and MSM medical student NaKiera Evans. We are grateful for our partnership with Devereux, and we could not be prouder of our Alum Dr. Carmichael and her contributions to care and our MSM community.
MSM Psychiatry Faculty Profiled in Psychiatric News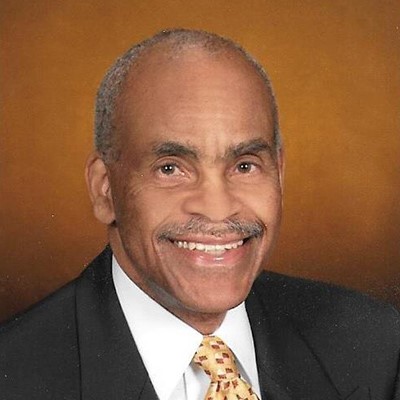 MSM Psychiatry Professor Dr. Quentin Ted Smith was recently profiled in Psychiatric News in a lovely piece written by Dr. Ezra Griffith of Yale Medical School. Dr. Smith, who is trained in both Adult and Child & Adolescent psychiatry, has been a part of our faculty here since 1984. He has always worked closely with students and has inspired and mentored many - trainees and colleagues alike. He is the Vice-Chair of Education for our department. The article author wrote that he considered Dr. Smith "one of the tranquil and effective sages in American Psychiatry." Those of us privileged to work alongside him here could not agree more.
MSM CAP Faculty Appointed to Editorial Board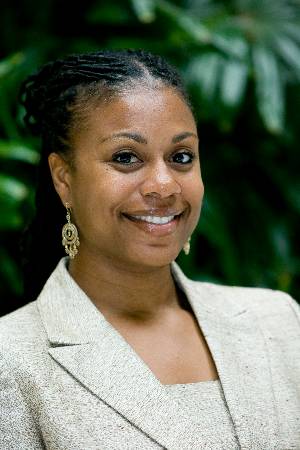 Health Psychology. Health Psychology published by the American Psychological Association (APA) is the flagship journal for the Society for Health Psychology (APA, Division 38) and is the premier scientific journal addressing the complex and multidimensional influences on the human experience in physical health research. Adhering to the highest standards of peer-review, the journal's mission is to advance translational science, policy, and practice to significantly impact population health. The journal actively encourages submissions that address psychological, behavioral, biobehavioral. and sociocultural dimensions of the diversity of human experience, and which reflect a strong commitment to inclusive excellence to facilitate the goal of optimal health for all.
Dr. Kisha Holden was recently appointed as an Adjunct Professor, Department of Psychiatry and Behavioral Sciences, School of Medicine, Emory University.
MSM Faculty Members Speak at National NMA Meeting
Morehouse School of Medicine Pediatrics Program Director and Interim Chair Drs. Lynn Gardner (who has a secondary appointment in CAP), CAP Program Director Dr. Sarah Vinson, and Adjunct Faculty Dr. Sherri Simpson Broadwater were all participants in the National Medical Association Conference. Dr. Simpson Broadwater chaired the NMA's Women's Health Section, making this her third year doing so. Dr. Vinson and Dr. Gardner presented in the combined Pediatrics and Family Medicine section regarding integrated care and educational and training approaches to the development of clinical skills and medical knowledge in this area. The CAP Fellows' rotation in the MSM Pediatric Intern continuity clinic at Hughes Spalding was highlighted for its bi-directional benefit to Pediatrics residents & attendings and for the CAP Fellows.
Dr. Sarah Vinson Talks with NPR About Youth Mental Health Crisis and New Documentary "Hiding in Plain Sight"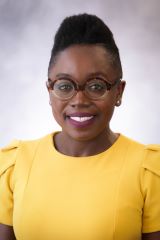 The new documentary "Hiding in Plain Sight" is an investigation of the mental health challenges of youth in the US, which Surgeon General Vivek Murthy has flagged as a "real and widespread" problem. The film is streaming now on PBS.
Dr. Sarah Vinson, Interim Chair of the Morehouse School of Medicine Department of Psychiatry & Behavioral Sciences and a triple board-certified child & adolescent, adult, and forensic psychiatrist, is part of the documentary. Dr. Vinson and Erik Ewers, one of the film's directors, spoke with National Public Radio host Juana Summers of "All Things Considered" on July 5 about the project and the current youth mental health crisis.
Read More: https://www.npr.org/2022/07/05/1109883827/new-documentary-hiding-in-plain-sight-sheds-light-on-youth-mental-health-crisis
Watch "Hiding in Plain Sight": https://www.pbs.org/show/hiding-plain-sight-youth-mental-illness/
Faculty Highlight: Kisha Holden, MD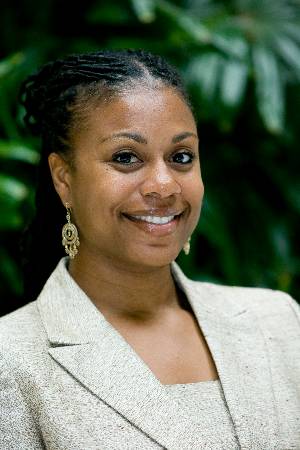 Dr. Kisha B. Holden, Ph.D, MSCR, the Poussaint-Satcher Endowed Chair in Mental Health and Associate Director for the Satcher Health Leadership Institute. Dr. Holden is the Director of Research and Scholarship in the Department of Psychiatry and Behavioral Sciences at Morehouse School of Medicine. She has a funded grant: Building Bio-behavioral Resilience Skills Training for Black Women with PTSD-NIH/NIMHD Funded Research Study (Principal Investigator), as well as several publications under development including the text Black Women and Resilience: Power, Perseverance, and Public Health that is to be published Summer 2022. Additionally, she is the American Psychological Association Health Equity Committee 2023 Chairperson Elect. Dr. Holden brings her wealth of knowledge to our child psychiatry fellowship's journal club as a recurring discussant, where she is paired with a clinically based discussant during the class.
MSM Core Faculty Elected To Statewide Office
MSM faculty Drs. Nicole Cotton and Sarah Y. Vinson were elected to statewide office by their peers in the Georgia Psychiatric Physician's Association, the GA district branch of the American Psychiatric Association. Dr. Cotton, who is a core faculty member, clinical supervisor, and co-course director for the fellowship (as well as an MSM alumna) was elected to a Trustee position. Dr. Vinson, the CAP Fellowship PD was elected to the position of president.
MSM Core Faculty Best Seller Made Into Theatrical Play
After the resounding success of the Book, Something Happened in Our Town, for which MSM CAP Core Faculty Dr. Marietta Collins is a co-author, the book was adapted into a play of the same name. It was produced by the Children's Theatre Company in Minneapolis, Minn and ran in the spring of 2022. Dr. Collins stated, "The 10-page children's book was adapted into a 70-minute play that was truly astounding! It was very well received by community leaders, parents, children, and teachers." Dr. Collins has been a key member of the program faculty since its early planning stages and currently serves as a psychotherapy supervisor.
MSM Faculty Honored BY Their Peers with Historic Elections
MSM core faculty member, Dr. Shaakira A. Ford, DSW, LCSW, who currently serves as the Vice President for the Georgia Society for Clinical Social Work, has been elected by her peers to lead the professional organization as its President. In addition to her election reflecting the esteem in which Dr. Ford is held by her colleagues, it is also historic. Dr. Ford will be the first Black president in the history of the 40+ year old organization. Dr. Ford is a psychotherapy supervisor for fellows and has also supported a fellow in her exploration of college mental health through a clinical elective.
MSM CAP Fellowship Adjunct faculty member, Dr. Yolanda Fountain Hardy, Ph.D., LPC, RPT-S, ACS, NCC, has been elected by her peers has the president of the Play Wellness organization. She is the first black president to serve in the organization's 29-year history. She also serves as the director of the Play Therapy Course for the Fellows.
MSM Adjunct Faculty and Fellow Interviewed by NPR
MSM CAP Fellowship adjunct faculty member, Dr. Adam Silberman and CAP Fellow Dr. Karyn Korsah were interviewed for the NPR article "Georgia doesn't have enough mental health providers, but the need is only growing." Dr. Silberman is the medical director at Hillside, a private hospital and rotation site for our CAP fellows where they are immersed in the Dialectical Behavioral Therapy (DBT) modality.
MSM Core Faculty Panelist at Gun Violence Outreach Event
MSM core faculty members Drs. Marietta Collins and Nina Mena were panelists in the community outreach event Gun Violence in Communities of Color: Prevention and Treatment Approaches for Families. Dr. Collins, a clinical psychologist who serves as a psychotherapy supervisor for our fellows, discussed the ubiquity of storytelling across many cultures and therapeutic traditions. And Dr. Mena, a Child & Adolescent Psychiatrist and co-director for multiple resident courses, discussed the prevalence of gun violence and its traumatic impact on children and families.
MSM Adjunct Faculty Adolescent Addiction Expert Published in Emerging Trends in Drugs, Addiction and Health
MSM CAP fellowship Adjunct Faculty member Dr. Steve Jaffe is the author of "Case reports on the failure of smoking marijuana to prevent relapse to use of opiates in adolescents/young adults with opiate use disorder" published in Emerging Trends in Drugs, Addiction and Health. Dr. Jaffe, a trailblazing physician in the field of adolescent substance use disorders and treatment, is the clinical Director of the Atlanta Insight adolescent/young adult substance-abuse program and serves as Attending Physician for our fellows during their rotation at the program.
Best-Selling Author MSM Faculty Accepted for 3rd Publication
Dr. Marietta Collins, co-author of the best-selling children's book Something Happened in Our Town, has had a third book, Something Happened to Our Planet: Children Take on the Climate Crisis, accepted for publication. This book examines the impact of the climate crisis on a group of young kids as they make decisions to advocate for environmentally friendly changes in their school. As was our other books, this one will be published by Magination Press, the publishing arm of The American Psychological Association with an anticipated release date of 2023. Dr. Collins has been a key member of the program faculty since its early planning stages and currently serves as a psychotherapy supervisor.