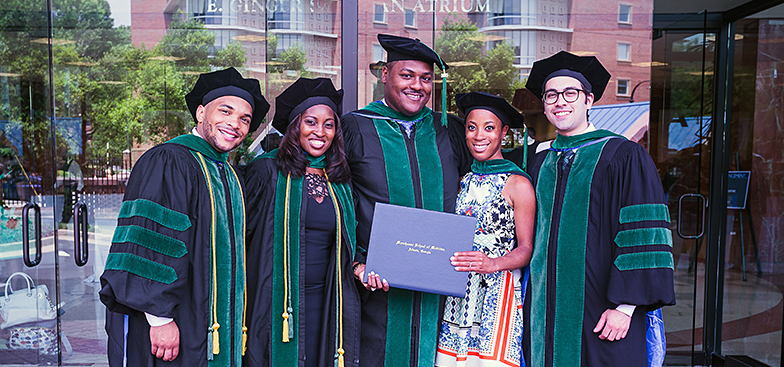 Be the difference. Make your gift today.
Your Giving Options
No matter how you give, every gift makes an impact. Give to a fund or scholarship outlined below - or designate your gift to a specific area that matters to you. Every donor, giving at every level, plays a vital part in helping us educate and prepare the next generation of health care leaders.

Individuals who contribute $1,000 or more to any fund will be recognized as members of the Hugh M. Gloster Society. Please consider making your gift today. You can also learn why your gift makes a difference and how we're using it to successfully educate and train students.
The cost of medical education.
Our students come from family household incomes of $55K when the average medical student in the U.S. comes from family household incomes greater than $170K.
Academic Expansion Initiative

Gifts to the Academic Expansion Initiative will support our efforts to expand our academic and research facilities. As we increase our class size, it is essential that our researchers, faculty, and students have stateof-the-art facilities that inspire higher levels of achievement.

Founder's Fund (MSM Annual Fund)

Gifts to the Founder's Fund allow MSM to say "yes" to innovative programs, faculty research projects, financial aid and hands-on learning opportunities. These gifts help pay for financial aid awards, computer and laboratory equipment, library acquisitions and so much more.

Direct Scholarships

Donors may name a direct scholarship for themselves or someone they seek to honor. You may consider a gift of $2,500, $5,000, or above. View PDF

Presidential Scholarship

Established in the first year of Dr. Valerie Montgomery Rice's tenure, this scholarship program has been transformed into a means by which donors can direct their support to the most meritorious and deserving students. This year, the Presidential Scholarship supported 154 students and awarded more than $1.1 million in scholarships.

Endowed Scholarships or Planned Gifts

You can also make donations in the form of Endowed Scholarships or Planned Gifts. To learn more about these opportunities, or any giving options you see here, please contact us:

Bennie Harris, Ph.D.
Senior Vice President, Office of Institutional Advancement
bharris@msm.edu or 404-752-1955

Programs and Departments (Other Designation)

You may also designate your gift to a specific area that matters to you. Select "Other Designation" if you're giving via the online form, or contact us at giving@msm.edu or 404-752-1730.
Giving to MSM