Morehouse School of Medicine's 38th Commencement Exercises
Saturday, May 21, 2022 | 9:00 AM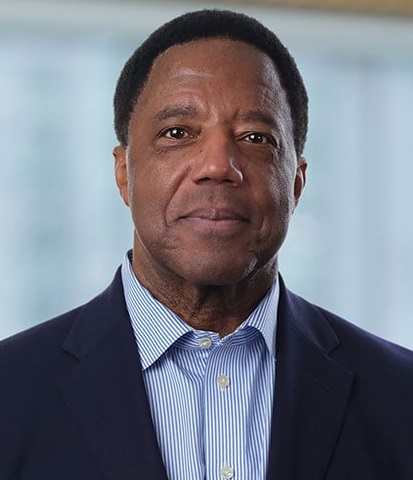 Lloyd H. Dean, CEO of CommonSpirit Health
MSM's off-campus ceremony will feature our 2022 Commencement speaker, Lloyd H. Dean, CEO of CommonSpirit Health. Mr. Dean remains one of the country's leading voices in the fight for health equity, one of the leading Black CEOs and made notable contributions during his tenure. Among his accomplishments during his 22 years, Dean lists his contributions to the passage of the Affordable Care Act (ACA) among his greatest; he was an outspoken advocate for the passage of the ACA and partnered with the President Obama Administration and Congressional leaders to rally support for the bill. He also cites CommonSpirit's recent partnership with the Morehouse School for Medicine to commit $100 million over ten years to increase the number of Black doctors and efforts with the Baylor College of Medicine, Creighton University and the Morehouse School of Medicine to have an impact on advancing more culturally sensitive care delivery across America. We look forward to hearing his message to the Class of 2022.
This year's exercises are noteworthy in other ways too. We will be celebrating the 10-year anniversary of MSM's Master of Science in Medical Sciences (MSMS) Program as well as the 25th anniversary of the Master of Public Health Program.
We also will hold our traditional Commencement events, Class Day and the President and Dean's Reception in the Louis W Sullivan National Center for Primary Care Friday, May 20 beginning at 4pm EST.
Be sure to check back frequently for more details as they become official. We look forward to SEEING you!
View 2022 Commencement Program pdf
38th Commencement Events
By These Healing Hands
12PM | TUESDAY, MAY 17
Commencement Rehearsal
2PM | WEDNESDAY, MAY 18
Celebration for Calvin Smyre
4PM | WEDNESDAY, MAY 18
Class of 2022 Ice Cream Social
4PM | THURSDAY, MAY 19
MPH 25th Celebration
6:30 PM | THURSDAY, MAY 19
Conversation of Significance
1PM | FRIDAY, MAY 20
Danforth Dialogues with LLoyd Dean, CEO of CommonSpirit
1:30 PM | FRIDAY, MAY 20
Class Day
4 PM | FRIDAY, MAY 20
President and Dean's Reception For The Class of 2022
5:30 PM | FRIDAY, MAY 20
Commencement
9 AM | SATURDAY, MAY 21

Welcome Alumni: Celebration for the Class of 2022
6 PM | SATURDAY, MAY 21
Parking Information
Those attending the Commencement Ceremony should park in the Morehouse College Parking Deck.
CLICK HERE for directions. Shuttle service will be available from the parking deck to Century Campus.