Chief Residents' Spotlight
Erica Johnson, PhD
PGY-IV, Chief Resident

My name is Dr. Erica R. Johnson, and I am a native of Orangeburg, SC. I completed my Bachelor of Science in Biology from the College of Charleston. I then went on to earn a Master of Science in Public Health (MSPH) with an emphasis in Epidemiology, as well as a PhD in Epidemiology, both from the University of Alabama at Birmingham. I subsequently earned my Medical Degree (MD) from the University of South Carolina School of Medicine-Greenville. Throughout this journey, I have served in a variety of roles including research, population health, and community outreach. It is the culmination of these experiences that influenced my decision to pursue a residency program whose mission was in alignment with my core values of serving the underserved and increasing minority representation in medicine. After interviewing at Morehouse School of Medicine, I knew it was the perfect fit. I could not imagine what my training experience would have been, had I not matched at MSM.
It has been an honor to serve as Chief Resident for the 2022-2023 academic year, and a privilege to train at a program that continues to push the field of medicine forward. After graduation, I plan to work as a general adult psychiatrist, and will continue to uphold the mission of MSM by bridging the gap in access to care, eliminating stigma, and positively impacting the trajectory of mental health outcomes among underserved communities.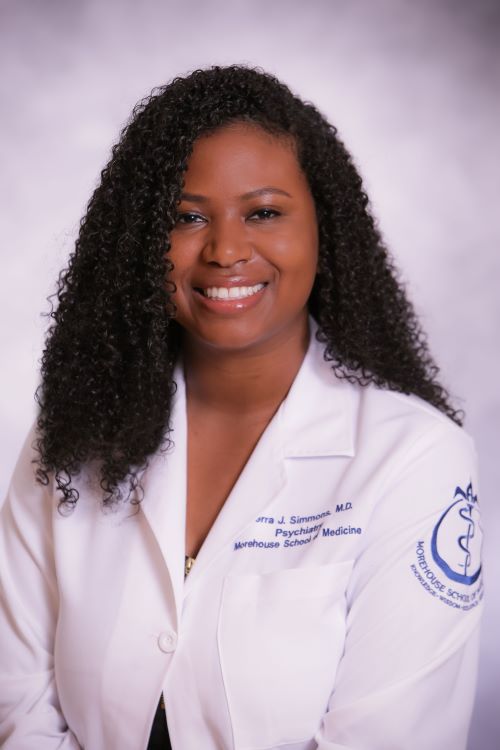 Tierra Simmons, MD
PGY-IV, Chief Resident
Hi! I'm Tierra, born and raised in North Carolina. I attended the North Carolina School of Science and Mathematics before attending The University of North Carolina at Chapel Hill (UNC), where I majored in Business Administration with a double emphasis in Entrepreneurship and Marketing and pledged Alpha Kappa Alpha Sorority Inc. Upon completing my B.S. degree, I matriculated into the Brody School of Medicine at East Carolina University where I earned my medical doctorate. On my journey towards earning an M.D., I served as a medical volunteer on international trips, completed community projects aimed towards serving marginalized groups, and conducted research to bring awareness to healthcare disparities and inequity. All of the aforementioned interests and goals led me to choosing Morehouse Department of Psychiatry and Behavioral Sciences to complete my residency training (thankfully, they chose me too 😊). Overall fit with the people in the department, diversity of colleagues and patients, and geographic location of being in the southeast were the most important factors for me when ranking programs. I am honored to serve as the educational chief resident for the 2022-2023 academic year and look forward to a year of learning and mentoring. My post-residency interests include women's mental health, underserved/minority communities, mentoring, and general adult psychiatry.