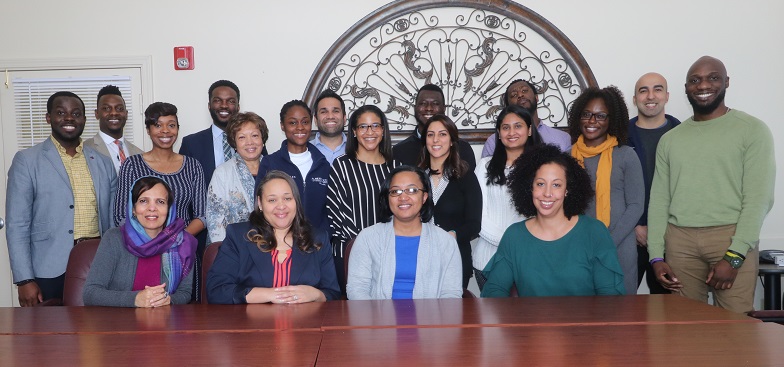 Psychiatry & Behavioral Sciences Residency Program News
MSM to Host The 2023 Dewitt Symposium
Supported by our dedicated staff, our faculty, residents and fellows are engaged in a wide variety of scholarly pursuits. Additionally, our faculty hold numerous professional leadership positions at both regional and national levels. Spring of 2023, we're excited to host the DeWitt Symposium, which will be a research, advocacy and professional development event for URM Pscychiatry trainees from throughout the Southeast United States.
The DeWitt Symposium, named for the founding chair of our department, Dr. DeWitt C. Alfred, Jr., is an annual event at Morehouse School of Medicine that has traditionally been an internal event, including only our residents and fellow trainees and faculty. This year, we plan to bring in sixteen residents from other institutions for a scientific exchange and workshops regarding career progression and personal sustainability as a psychiatric physician. The program will be held in Atlanta, GA at the Kimpton Overland Hotel the evening of May 11th through the morning of May 13th, and include a number of activities to promote professional development, career planning, and mentorship both from peers and faculty. For more information, please click here.
Represent!
Hats off to current PGY-3 resident, Christopher Villongco, MD. He presented at the 2021 ACDP (Asian Center for Drug Policy) pre-conference on the topic "Substance Use in the Philippines: Governance, Research and Practice". He also has a recent publication in Current Psychiatry entitled, "Systemic Trauma in the Black Community: My Perspective as an Asian American". Click on the title to access publication in full.
Our Department Chair Induction
We are so proud of our very own Department Chair, Dr. Gail A Mattox, who was inducted into The American College of Psychiatrists. Membership is limited to psychiatrists who have demonstrated outstanding competence in the field and who have achieved national recognition in clinical practice, research, academic leadership, and teaching. There are approximately 750 total members of the American College of Psychiatrists. Dr. Mattox was one the 40 new members who were inducted during the organization's Annual Meeting in Ft. Lauderdale, FL on February 20, 2020.
Winter GPPA Meeting 2020
Kudos to Quentin T. Smith, MD who is the recipient of the Georgia Psychiatric Physicians Association (GPPA) Distinguished Service Award. His achievement was celebrated at this year's Winter Meeting. Congratulations to Dr. Christopher Villongco, he was the winner of Resident Jeopardy at this year's annual Winter GPPA meeting in Atlanta. MSM ranks #1 again! Kudos again to Dr. Villongco for securing grant funding for a pilot project from the MSM Office of Global Health Equity. It is entitled "The Evaluation of Mental Health Resources Available for Primary Care and Barangay (Community) Health Workers in the Phillipines."
GME Annual Retreat 2019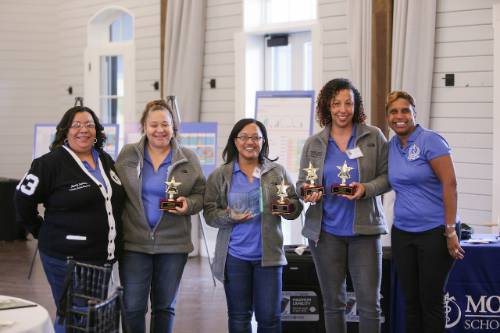 Kudos to the Residency Program Administration and staff for receiving recognition at the annual GME Retreat last week. We won the following two awards: The Stellar Award for explemplary overall administration of the residency program and the Mad Skills Award for excellent documentation management for the program's Annual Program Review.
Annual Fall Retreat 2019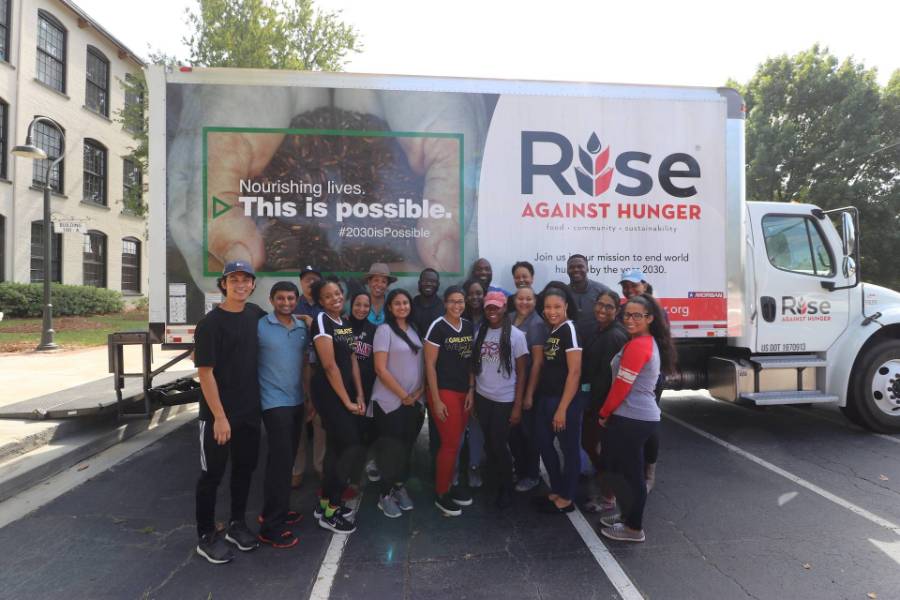 This year's annual fall retreat was a department-wide volunteer event with Rise Against Hunger, Inc. (RAH). RAH is a charitable not for profit entity the mission of which is to end hunger in our lifetime by providing food and life-changing aid to the world's most vulnerable populations, by making a global commitment to mobilize the resources necessary to achieve this goal. One of the ways that RAH works to achieve its mission is by working with other interested parties to stage meal packaging events to create fortified, dehydrated, shelf-stable meals that are transported by RAH to identified areas of need.
Heart of Grady Award given to Grady Behavioral Health leadership team including Dr. John Gaston and Dr. Gail Mattox
The White Coat Grady Gala is the Grady Health Foundation's most successful signature event, having raised over $11 million to support Grady's patient care since 2010. On Saturday, March 2, 2019 at the Georgia Aquarium, this premier black-tie gala brought together Atlanta's top healthcare, corporate, government, and civic leaders to honor Grady's awe-inspiring, compassionate healthcare heroes. This year's honorees, each of whom is highly respected in their specialty area and represent some of the hardest working providers here at Grady. Each has made a profound impact on the lives and health outcomes of our patients, and the success and growth of our critical care services. They are each vital to the transformative care Grady provides, and help us continue to build on our 126-year legacy of excellence.
The Heart of Grady Award, given to the Grady Behavioral Health leadership team which includes our esteemed Dr. John Gaston and Dr. Gail Mattox for their commitment to expand Grady's behavioral health care into our ambulatory, telemedicine, and emergency services internally, and for their steadfast advocacy for support of mental illness funding and programs externally.
Watch 2019 White Coat Grady Gala: Heart of Grady Award
---
Atlanta's Role in the Fight for Mental Health in the African-American Community
Congratulations to PGY-4 Resident Christopher Rashad Smith, M.D for his Op-Ed on MSM's Blog: "Atlanta's Role in the Fight for Mental Health in the African-American Community."
Waffle House: America's Best Place To Eat, Not Engage Police
Kudos to the PGY-4 group for their article, "Waffle House: America's Best Place To Eat, Not Engage Police," on the Physician's for Criminal Justice Reform website. Very well written!
---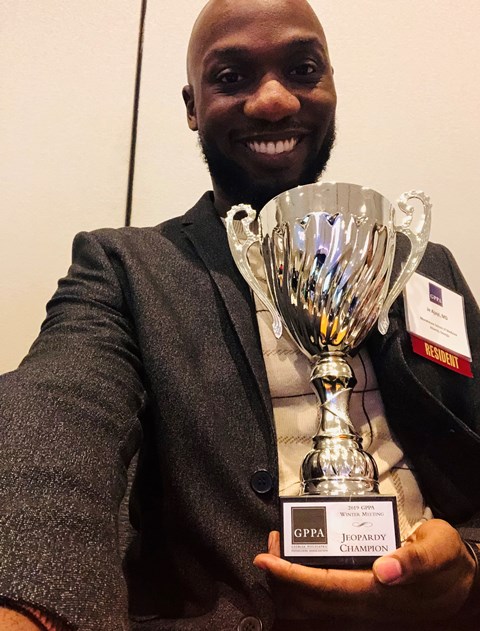 Dr. Je Ajayi receives 1st Place Finish in the Inaugural Resident Jeopardy
Congratulations to Dr. Je Ajayi, current PGY-3 resident, on his 1st Place Finish in the Inaugural Resident Jeopardy at the 2019 Georgia Psychiatric Physicians' Association's Winter Meeting! This meeting took place in Buckhead (Atlanta) February 15-16, 2019. Way to go 2019 GPPA Jeopardy Champion!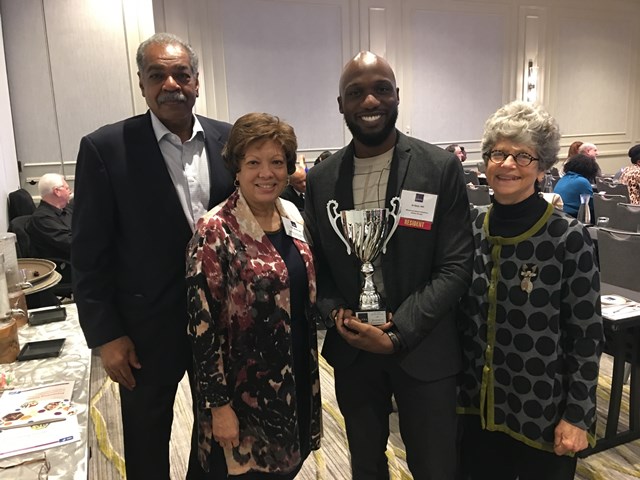 ---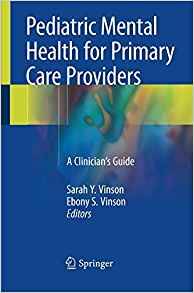 Pediatric Mental Health for Primary Care Providers - A Clinician's Guide
We are super excited to introduce Pediatric Mental Health for Primary Care Providers - A Clinician's Guide, published by Springer. Morehouse School of Medicine Department of Psychiatry's faculty members Dr. Glenda Wrenn and Dr. Nicole Cotton, Adjunct Faculty Dr. Hasani Baharanyi and Senior Resident Dr. Kevin Simon were all chapter authors! Dr. Vinson along with her sister, Psychologist Dr. Ebony Vinson, served as co-editors! This is amazing and we congratulate you all!
---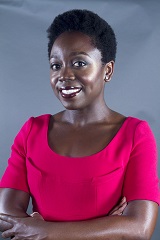 Sarah Y. Vinson, MD
Sarah Y. Vinson, MD. in Atlanta Business Chronicle
We're making headlines again! Check out this awesome article in the Atlanta Business Chronicle, "Morehouse Professor Saw Need for Mental Health Ambassador" with our very own Triple Board Certified Child and Adolescent, Adult and Forensic Psychiatrist, Sarah Y. Vinson, MD.
---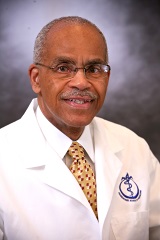 Quentin T. Smith, MD
Quentin T. Smith, MD honored at 2018 Hugh Gloster Society Celebration
Please join us in congratulating Quentin T. Smith, MD, who was honored at this year's Hugh Gloster Society Celebration. Ridgeview Institute, a major site for our psychiatry clerkship, donated $400,000 to Morehouse School of Medicine to establish endowed scholarships for medical students in his honor! It reflects Dr. Smith's longstanding service to Ridgeview, which includes past service as medical director for the adolescent chemical dependency unit and the child and adolecent inpatient unit. Congratulations Dr. Smith!
---
Archived News

C. Rashad Smith, MD

C. Rashad Smith, MD (PGY-3) was elected to membership in the Gamma Chapter of the Alpha Omega Alpha Honor Medical Society. AOA is the only national honor medical society in the world. Members are elected based on their academic achievements, but their community and institutional stewardship figure equally into their selection as well. Election to AOA is a distinction that accompanies a physician throughout his or her career. Congratulations, Doc, on this prestigious achievement!

Our esteemed faculty member Glenda Wrenn, MD, contributed to a recently published book, "Military and Veteran Mental Health." Dr. Wrenn's chapter is titled "The Importance of US Military Cultural Competence."

Department Chair Gail Mattox, MD, recently spoke to the Atlanta Journal-Constitution, weighing in on the profound attachment the public had to young Tripp Halstead before and after his death.

Associate professor Eugene Herrington, PhD, one of our program supervisors and didactic course instructor, was awarded the Dr. Lonnie E. MItchell Lifetime Achievement Legacy Award at the annual Lonnie E. Mitchell HBCU Behavioral Health Summit in Charlotte, NC ,in February. This is Dr. Herrington's second lifetime achievement recognition for his outstanding services and consistent contributions to the advancement of mental health and addiction professionals.

Jay Bhimani, MD (PGY-2) had his article, "Substance Abuse Among Older Adults: A Growing Problem" on the COVER of the March issue of the Current Psychiatry Journal. Way to represent!

Attendees at this year's American Psychiatric Association Annual Meeting in New York City May 5-9 had the opportunity to see our RESIDENTS ON THE MOVE. Six of our residents presented in various capacities (poster presentation, Research Colloquium and more) at this prestigious national event, some even presented multiple times! Drs. S, Brar, O. Edukuye, C. Hoffman, C. Rashad Smith, K. Simon, and V. Kumar...you all ROCK! #teampsych

A big shout out to three of our residents for placing second and third in this year's Georgia Psychiatric Association's Joe and Hope SKOBBA Poster Presentation Competition: V. Kumar, MD, and C. Rashad Smith, MD, for "An Evaluation of Patient Follow-up Visit Correlations of Psychiatric and Primary Care Appointments" and Simran Brar, MD, for "Cultural Stigma and Observed Barriers to Mental Health Treatment in a Local South Asian Community: A Community Needs Assessment."

We would like to recognize Vipan Kumar, MD, and program alum (now faculty) Roohi Abubaker, MD, for having their poster "Ketamine Use in Treatment Resistant Depression" accepted for the European Psychiatric Association Annual Meeting in France. KUDOS!

Left to right: Dr. Eugene Herrington, Dr. Vipan Kumar, Dr. Simran Brar, Dr. David Satcher, Dr. Ellen Yancey, Dr. Glenda Wrenn, Dr. Gail Mattox, Dr. Kisha Holden, Dr. Rashad Smith

Our former associate program director and current psychiatry faculty member, Glenda Wrenn, MD, led the 2017 inaugural Kennedy-Satcher Mental Health Equity Conference last November. To quote Dr. Satcher, "There is no health, without mental health." We are proud of the Satcher Health Leadership Institute's (SHLI) ongoing efforts to strengthen community health and actualize the vision of MSM ... Leading the Creation and Advancement of Health Equity.

Once again our awesome program director is out in these Atlanta streets being her great self! Deirdre Evans-Cosby, MD, represented MSM and the Psychiatry Residency Training Program on one of Atlanta's largest urban radio stations, V-103. Dr. Cosby spoke about mental health stigmas on the Ryan Cameron Morning Show for the kick off of "Hip Hop Doc Week" in October, presented by Grady Memorial Hospital.

Dr. Cosby also just received the Best MD4 Teacher Award at the Morehouse School of Medicine Faculty Appreciation Gala. This event is sponsored by the MSM medical students and took place April 28 at the Fernbank Museum. So well deserved!

And if that's not enough, we're also delighted to announce that Dr. Cosby received the Graduate Medical Education 2017 Faculty Member of the Year Award, recognizing her outstanding service and dedication to residents, students and the entire GME community at large.



Rashad Smith, MD (PGY-3, pictured below in back) volunteered his time to speak at the Reach One Each One Lunch and Learn, part of a youth medical mentoring presentation. Represent!

The GME 2017 Resident of the Year is our own Jordan Howard, MD! A Fresno, Calif., native, Dr. Howard earned his Bachelor of Arts in psychology with minors in natural science and Spanish from the University of Southern California. After completing his undergraduate studies, he worked as a reproductive health assistant with Planned Parenthood. Dr. Howard graduated from Windsor University School of Medicine and earned his Master of Business Administration with a concentration in healthcare management from Davenport University. He currently serves as one of our chief residents, has been involved in many research projects, and written several published articles including "Should Psychiatrists Perform Competency-to-be-Executed Evaluations?" featured in the August 2016 issue of The American Journal Of Psychiatry Residents. Dr. Howard is an active member of the Grady Transgender Task Force, a committee organized to prepare for the opening of a transgender clinic at Grady Hospital this year. Following completion of his residency, Dr. Howard plans to stay in Atlanta to work in correctional mental health as well as continue in a role with the MSM Department of Psychiatry. Congratulations!

Dr. Howard is one of the first of 10 graduate recipients of the MSM Loan Repayment Program Award. By remaining in Georgia after graduation, he will receive $25,000 per year in loan repayments for two years. This assistance enables Dr. Howard can focus on his work, his passion, rather than salary. Congratulations Dr. Howard!

Kevin Simon, MD, was our program's 2017 Resident of the Year. In addition, Dr. Simon was voted by third-year medical students as one of the six residents selected for the Humanism and Excellence in Teaching Award. Congratulations! Dr. Simon was chosen from a competitive field of applicants to participate in the American Academy of Child and Adolescent Psychiatry Educational Outreach Program. This program provides residents with a formal overview of the field of child and adolescent psychiatry while establishing mentorship relationships with distinguished members and experiencing the annual AACAP meeting in Washington D.C. this October! KUDOS Dr. Simon!

Kanaka Meyyazhagan, MD (PGY-4), and Simran Brar, MD (PGY-3), presented a poster at the annual American Psychiatric Association meeting in San Diego titled "Developing Interest in Psychiatry Careers Among Medical Students." Their project received a write-up on the MDmag.com website, a medical magazine and website that provides medical news and conference coverage for physicians.


Effective February 2017, the Accreditation Council for Graduate Medical Education Review Committee accredited our general psychiatry residency program with the status of CONTINUED ACCREDITATION! The RRC commended the program for its demonstrated substantial compliance with the ACGME's Program Requirements and Institutional Requirements without any new citations.

APA SAMSHA Fellow Swathi Krishna, MD (PGY-4), had the opportunity to co-author an APA blog post regarding mental health themes and themes of suicide and self-harm on the Netflix show "13 Reasons Why."

#TEAMMSMPSYCH is once again making big moves! Vipan Kumar, MD (PGY-3), has had his painting and poem on PTSD accepted. It will be featured on the webpage of next month's edition of The American Journal of Psychiatry's Resident Journal. Way to go, Doc!

Sending a huge CONGRATULATIONS to Christopher Hoffman, MD, for being awarded the APA SAMSHA Fellowship for the 2017-18 academic year. This is one of the oldest most respected and admired resident fellowships in the APA.

Kevin Simon, MD (PGY-2), was awarded the APA Public Psychiatry Fellowship, which aims to create the next generation leaders in public psychiatry. The program creates opportunities for residents to participate in important APA activities, plan workshops at IPS, and interact with thought leaders in the field of public psychiatry.


Swathi Krishna, MD (PGY-4) and Simran Brar, MD (PGY-3) have had their poster titled "Cultural Stigma and Observed Barriers to Mental Health Treatment in a Local South Asian Community: A Community Needs Assessment" accepted to present the the Southeastern Symposium on Mental Health in Greenville, SC. The Southeastern Symposium on Mental Health enables stakeholders to collaborate across disciplines and share research findings utilizing evidence-based outcomes in order to improve patient-centered care.

Kevin M. Simon, MD (PGY-2), was offered a travel scholarship to attend the fifth annual Lown Institute in Boston. The institue is a think tank dedicated to research and public communication to expose the deep-rooted failures and injustices in our health care system, and to helping clinicians, patients and communities develop a shared vision for a better health system.

Alumna Reyna L. Gilmore, MD ('11), of Cincinnati, was recognized as a 2017 Professional of the Year by Strathmore's Who's Who Worldwide Edition for her outstanding contributions and achievements in the field of healthcare. Some of her many accolades include: The inaugural Morehouse School of Medicine Resident of the Year Award (2011); the National Medical Association EY Williams Resident of Distinction Award (2011); and the Brian McConville, MD, Award upon completion of her child and adolescent psychiatry fellowship (2013).


MSM grad and assistant professor Ranjan Avasthi, MD, has had his team's case study published as one of the "cases that test your skills" in Current Psychiatry. Please click on link for more information on this extremely interesting case on a patient who was unresponsive and mute after he smoked 'Spice".

Dr. Kevin Simon is making headlines! He was just offered a GAP (Group for the Advancement of Psychiatry) Fellowship for the 2017-2018 academic year. He was chosen based on his accomplishments, academic achievement, initiative, leadership and writing skills. CONGRATULATIONS!! In addition, his abstract titled "Empowering Trainees and Guiding Careers: Mentors and Sponsors in Clinical and \Organized Psychiatry" was approved for the 2017 APA Annual Meeting in San Diego, Calif.


Glenda Wrenn, M.D., associate professor of psychiatry and behavioral science and director of the Satcher Health Leadership Institute Division of Behavioral Health, was appointed by U.S. Department of Health and Human Services Acting Assistant Secretary for Health Karen DeSalvo, MD, as one of 13 nationally recognized subject matter experts to serve on the Secretary's Advisory Committee on National Health Promotion and Disease Prevention Objectives for 2030.

Dr. Wrenn, along with Sarah Vinson, MD, are featured on WABE 90.1 FM -- Atlanta's National Public Radio station -- where they spoke on "Mental Health Providers Wrestle Post-Election Fears, Trauma."


For another year, our program has earned APA's 100% Club Platinum Level status! This achievement is a testament to our program and our residents' commitment to the psychiatric profession. Some of the few benefits our program has to look forward to with this status:

A practice resource gift for each resident and program director
Priority access to moderator positions at the Annual Meeting and IPS: The Mental Health Services Conference
Welcome kits for incoming chief resident(s)
Access to SET for Success, including more than 60 premium courses on the APA lLearning Center.

Women of Distinction Magazine selects Reyna Gilmore, MD, as a Distinguished Professional in her field. Dr. Gilmor became board certified in psychiatry after completing her residency at Morehouse School of Medicine and her child and adolescent fellowship at the Cincinnati Children's Hospital Medical Center. CONGRATULATIONS!



A big KUDOS to our own Eugene Herrington, Ph.D., MSW, M.Div, LCSW, for receiving the NAADAC (The Association for Addiction Professionals) Lifetime Achievement Award at its annual conference in Minneapolis, MN. NAADAC President Kirk Bowden, MD, presented the prestigious award, given to individuals who have established outstanding services through a lifetime of consistent contributions to the advancement of the addiction professional and its professionals at a national level.



Dr. Sheril Kalarithara along with the Emory University Psychoanalytic Institute, the Atlanta Psychoanalytic Society, and the Atlanta Foundation for Psychoanalysis are organizing a series of FREE MOVIE SCREENINGS followed by a psychological discussion of the movie, led by a psychoanalyst and OPEN TO ALL. There will be four events this academic year with the initial screening taking place Saturday, Oct. 29, 4 pm, at Harland Cinema on the Emory University campus. Dr. Ralph Roughton will discuss the critically acclaimed and award-winning "45 Years," a "subtle examination of the persistence of the past and the fragile (in)stability of the present." The Observer wrote that the lead performances "turn an apparently everyday story of a marriage in a quiet crisis into something rather extraordinary."


Our own Glenda Wrenn, MD, will serve as moderator in a community conversation on "Combating Mental Health Stigmas in the African American Community." Panelists include Dr. Leroy Reese, Jasmine Banks and David Love. This conversation is free and open to the public. It serves as the springboard for Tony-award winning director Kenny Leon and True Colors Theatre season-opening production of the Pulitzer Prize- and Tony Award-winning family drama "Proof," a play about a young woman's struggle with her possibly inherited mental illness, and how her family and friends respond to her breakdown. "Proof" is playing at the Southwest Arts Center Oct. 25 – Nov. 20. Show times are Wednesday – Friday, 8 pm; Saturday, 2:30 and 8 pm, and Sunday, 2 pm. Tickets range from $20-$50.

STOP STOP STOP STOP STOP

Dr. Glenda Wrenn's beloved mentor, Ken Wells, MD (UCLA/RAND), has written and produced an opera about the life of Elyn Sacks, lawyer, advocate and person living with schizophrenia. The opera (that shares the name of her memoir, The Center Cannot Hold) is a powerful educational experience and inspiring depiction of the best and worst parts of healthcare; one that challenges us to consider the dignity of those living with severe mental illness. Dr. Wrenn was honored to view the live production and debut in Los Angeles earlier this summer and for a limited time, the opera will be livestreamed here.


Chief Resident Jordan Howard, MD (PGY-4), had his article "Should Psychiatrists Perform Competency-to-be-Executed Evaluations?" published in The American Journal of Psychiatry Residents' Journal.




Kevin Simon, MD (PGY-2), has had his book review "A Legal Solution to Health Inequality" published in the August edition of the journal Health Affairs. This journal is rated number one in cost-effectiveness among scholarly periodicals in Health Policy and Services as well as Health Care Sciences and Services.



Dr. Sarah Vinson was recently on WABE 90.1 FM's "Closer Look with Rose Scott and Jim Burress" where she gave advice on how to talk with children about the recent shootings and violence in general.





Please join us in congratulating Drs. Swathi Krishna, Vipan Kumar, and Farzana Bharmal and Kisha Holden on winning 2nd Place for the GPPA Skobber Poster Competition! This is for their work in Quality Improvement: An Assessment of the Documentation of Quality Measures in Grady Behavioral Health.

The MSM community had the fortunate opportunity to engage with and listen to thought leaders at the "Leaders Achieving the Vision of Health Equity" Forum. The core focus being mental health, illness, and addiction. Panelists included:

A great question posed by Dr. Jones: "What is the difference between Health Equality and Health Equity?" #ThisisHealthEquity

1st pic: Drs. Kevin Simon and Glenda Wrenn with Former Rep. Patrick Kennedy

2nd pic: Dr. Kisha Holden (Deputy Director, SHLI) with opening remarks

Glenda Wrenn, M.D. was appointed to serve on the National Alzheimer's Scientific Patient and CaregiverAdvisory Council of the newly approved PCORI-funded Alzheimer's and Dementia Patient/Caregiver-Powered Research Network (AD-PCPRN). She will serve as a member of the DIversity Leadership Group. Also, congratulations to Dr. Wrenn, who will be inducted as an American Psychiatric Association (APA) Fellow on May 16, 2016 at the APA's Annual Meeting Convocation of Distinguished Fellows Ceremony at the Georgia World Congress Center.

Glenda Wrenn, MD, Monifa Seawell, MD, and Otega Edukuye, MD (PGY-1) co-authored a recent educational case report that was published about the Academic Psychiatry elective they developed for Morehouse School of Medicine Medical Students.

100% Club/Platinum Level for Our Residency Program!

The APA 100% Club was established to encourage residents throughout the United States and Canada to join the APA with fellow trainees in their programs. Many psychiatric residency programs come very close to making 100% Club each year, but fall a little short. In order to honor those programs for their efforts, the 100% Club has been expanded to three levels of Gold, Silver and Bronze, as well as the addition of a Platinum level which will recognize programs that have been part of the 100% Club Gold level for the past five consecutive years. We are the only residency program in Georgia in the 100% Club!

In order to reach Platinum Level, Residency Programs must have been a part of the 100% Club Gold Level for the past five consecutive years. Benefits include:

$200 APA Publishing Gift Certificate for the Residency Program
Special Gift for Each Resident
5 year Program Participant Recognition Plaque
Recognition in Psychiatric News and APA website for the Residency Program

Watch the entire State of the Union in Mental Health and Addiction.

Fifty-two years ago this week, President John F. Kennedy, gave a special address to the U.S. Congress on mental health in the United States and signed the Community Mental Health Act into law. In 1999 The Surgeon General's report issued under former Surgeon General, Dr. David Satcher, put mental health back on the map. In 2008, then Congressman Patrick Kennedy helped pass the Mental Health Parity & Addiction Equity Act. In 2010, the Affordable Care Act extended insurance to millions of Americans.

Yet, 96% of Americans site mental health conditions, such as depression, anxiety and alcohol abuse as a major health problem. A new poll* suggests that 93% of the public believes that the current methods for addressing mental health need to change.

And, that's exactly why Morehouse School of Medicine (MSM) and The Kennedy Forum have formed a strategic partnership to launch the Kennedy Center for Mental Health Policy and Research, headquartered at MSM's Satcher Health Leadership Institute in Atlanta, Georgia.

The partnership was announced jointly by Dr. Valerie Montgomery Rice, president and dean of Morehouse School of Medicine, and Bill Emmet, executive director of The Kennedy Forum Feb. 3 during the first State of the Union in Mental Health and Addiction at The National Press Club in Washington, D.C. MSM's Dr. David Satcher and former Congressman Patrick Kennedy, both long-time advocates and leading authorities in mental and behavioral health, captivated a standing room only audience during the one hour SOTU which was streamed live to a global audience.

Both Kennedy and Satcher agree that this first State of the Union in Mental Health and Addiction is a first step in the right direction. "Dr. Satcher and I agree that the state of mental health and addictions in America is challenging for our citizens, and we need significant change," said Patrick Kennedy, founder of The Kennedy Forum.

The Center will address a handful of issues critical to the future of mental and behavioral health including: equity and quality, integration and innovation. "Over the next year we will promote progress in these four areas. We will bring accountability to goals through the Kennedy Center for Mental Health Policy and Research. And starting next year at this time, we will be here to tell the story of their progress," said Dr. David Satcher, executive director of the Satcher Health Leadership Institute.

MSM President and Dean Dr. Valerie Montgomery Rice added, "I fully embrace and endorse this historic step toward addressing mental health. I am pleased that the partnership will benefit from our 40 years of leading the fight for health equity. Mental health plays a vital role in overall health and it is an area that deserves attention. We will fully support the efforts of the Kennedy Center and The Satcher Health Leadership Institute toward bringing parity to the overall health of every human being, especially to those who are overlooked and who suffer disproportionately."

*The public opinion research, commissioned by the new Center and conducted by Public Opinion Strategies.

The Kennedy Forum, in which Drs. Glenda Wrenn and Harry Heiman are co-directors and members of its focus group, recently released the issue brief titled "Fixing Behavioral Health Care in America- A National Call for Integrating and Coordinating Specialty Behavioral Health Care with the Medical System" highlighting the Kennedy Forum's mental health policy and research.

Drs. Glenda Wrenn and Fatima Kasiah (Graduate 2015) were recently published in the Journal of Innovation in Health Informatics on using a self-service kiosk to identify behavioral health needs in a primary care clinic serving an urban, underserved population.

Kevin Simon, M.D. one of our incoming interns, has co-authored a recent publication in Psychiatric Services