Alumni Spotlight
Morehouse is home and Olive Garden said it best, "when you are here, your family." You might come in as a single, lowly intern, but you'll leave with a supportive group of colleagues turned friends and faculty turned mentors. It's a place of transformation- where your intern skillset is developed into an instrument of healing- allowing you to leave as a fully functioning independent psychiatrist. The experience you gain is truly as unique as the faculty and staff you work with. If you have a passion for something, a supervisor who shares that passion is never too far away-which allows for some of the best mentorship opportunities. Our faculty is diverse in their interests and academic backgrounds- from gender identity/roles and stigmas to infectious disease psychiatry, community medicine, psychotherapy, forensics or addiction- you name it, they are striving to give their residents the opportunities to engage in treatment that strives to create systems of health equity.
You can trust that you will leave with not only a Morehouse swag, but also with a multifaceted toolbelt that allows you to feel confident when treating patients with a wide range of needs. You'll have the opportunity to impact the lives of so many, not just through treatment, but also through advocacy and research, and community outreach. From seeing kids with ADHD in a low socio-economic setting to seeing Vietnam veterans at the VA, as a Morehouse resident you experience the full spectrum of psychiatry. During residency, you not only learn about diagnosis and treatment, but also the complexity of the healthcare system, providing cost-effective care, and participating in hands-on patient safety and quality improvement projects. Once you complete your residency at Morehouse, not only can you practice in any setting, but also help improve that setting with the tools you have mastered.
Class of 2022, Drs. Kristian Jones, Ashmeer Ogbuchi, and Christopher Villongco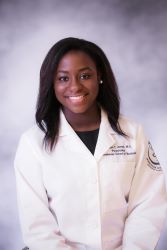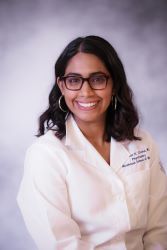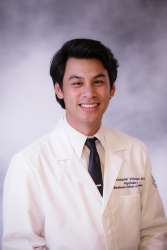 ---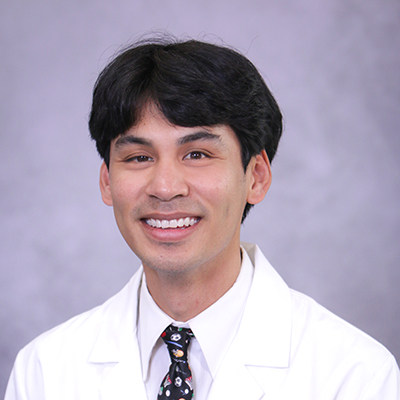 Christopher Villongco, M.D.
Class of 2022
Associate Professor and MSM Psychiatry Faculty Member
What attracted you to medicine and psychiatry?
What first really drew me to medicine was using my own skills, knowledge, and passion for science to be able to serve many people. Specifically, I wanted to serve underserved and marginalized communities with a goal of potentially doing mission work. What I found from being in medicine is that no matter your race, class, upbringing, or ethnicity – once you have a mental health disorder, you have additional barriers to care due to stigma illness and the unique challenges having psychiatric issues can bring. I really have a lot of compassion for individuals with mental issues and so found the perfect field for me in psychiatry.
What attracted you to MSM Psychiatry residency training?
Morehouse Psychiatry provided a unique combination. Because it is tied to an academic institution there are unlimited opportunities for excellent training, research, and academic collaboration. However, due to the program's mission and training sites – it still is embedded in the community and serves those who are low-income and under resourced. After interviewing, I felt the residents were very confident in their training while still truly enjoying their experience. I could really see myself enjoying my next four years and I have now really taken steps towards being the physician I always wanted to be!
What makes the MSM Psychiatry Residency unique?
First and foremost, the mission and dedication to serving minority and underserved communities is what sets MSM apart and I have learned and grown in so many things that I would have never the privilege to experience if I did not come here. In regards to training, MSM psychiatry is unique because it has so many different experiences to offer its trainees. Because it is an academic center, you have a lot of researchers, collaborators, and educators who are leaders in their field and are looking for driven people to work with. The sites you train at are all different in population, gender, race, socioeconomic status, and acuity so that you have a diverse training experience that builds your confidence and medical acumen. The faculty are very approachable and really want to see you grow and develop. I always felt that I could text or call them if I had questions and this really helped me feel comfortable and safe while giving patient care. The program is small and feels like a close family in many ways amongst the residents.
Anything surprise you about MSM Psychiatry program?
One thing that definitely surprised me was how natural the progress and improvements I made throughout my time in residency. Medical training can often times feel like you are "thrown into the deep end" or "drinking from the fire hydrant" but I found that at Morehouse Psych, I never felt overwhelmed or in over my head. At every stage, I was supported and the faculty always gave me tasks at the level I could handle. If there wasn't something I didn't know or didn't feel comfortable with, there was always an upper-level resident or faculty to bring guidance. From intern all the way to an attending now, I felt it has been a natural progression of skills and knowledge.
What was living in Atlanta like for you?
I'm a little biased because I grew up in Atlanta – but I absolutely loved it here! Atlanta is a growing city with so much happening but it's not too big so you can do everything you want to! I could start my day playing soccer, jump in my car in 30 minutes be on a nature hike, and then at a nice bar before dinner. The city has a really diverse population and I have always felt at home. The food scene is amazing and there are lots of cute and picture-esque places to hang out. Also a big plus is that Atlanta isn't too expensive so your dollar goes farther! And also you can't beat good ole' southern hospitality.