Applicant Resources
Residency Overview
Program Curriculum and Training
campus portal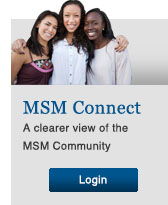 Residents
PGY-IV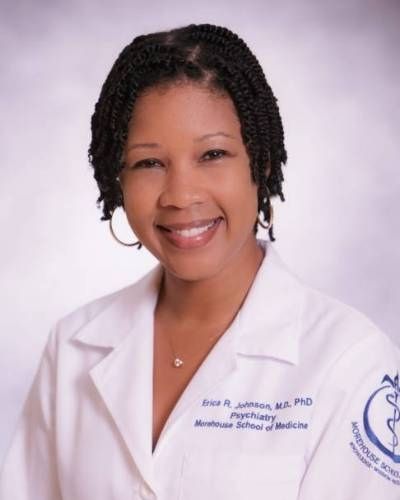 Dr. Erica Johnson
Chief Resident
Dr. Erica R. Johnson is a native of Orangeburg, SC. She completed her Bachelor of Science degree in Biology from the College of Charleston. She then completed a Master of Science in Public Health degree with an emphasis in Epidemiology, as well as a PhD in Epidemiology, both from the University of Alabama at Birmingham. During this time, Dr. Johnson worked in a variety of roles within the realm of public health including research, private contracting, and community health. To bridge the gap between population health and individualized healthcare, Dr. Johnson went on to complete her medical degree from the University of South Carolina School of Medicine Greenville. After residency, Dr. Johnson plans to pursue a career in general psychiatry with a focus on eliminating stigma and improving mental health outcomes among African Americans.
Outside of medicine, Dr. Johnson enjoys exploring everything about Atlanta, traveling, and binge-watching Netflix and reality tv.
Contact: ejohnson@msm.edu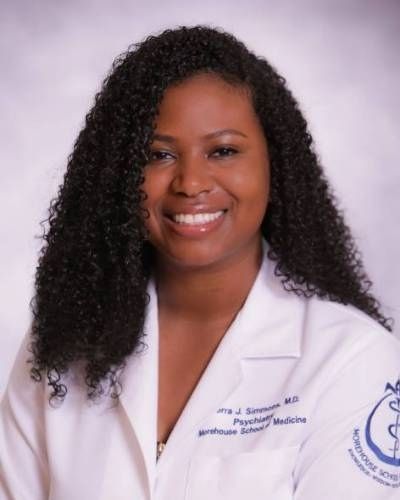 Dr. Tierra Simmons
Resident
Born and raised in North Carolina, Dr. Simmons attended the North Carolina School of Science and Mathematics before attending The University of North Carolina at Chapel Hill (UNC), otherwise known as The University of National Champions. During her time at UNC, Tierra majored in Business Administration with a double emphasis in Entrepreneurship and Marketing and pledged Alpha Kappa Alpha Sorority Inc. Upon completing her B.S. degree, Dr. Simmons matriculated into the Brody School of Medicine at East Carolina University where she earned her medical doctorate. On her journey towards earning her M.D., Dr. Simmons served as a medical volunteer on international trips to Honduras and the Dominican Republic, completed community projects aimed towards serving marginalized groups, and conducted research to bring awareness to healthcare disparities and inequity.
In her free time, Tierra enjoys traveling and exploring different cultures, leisurely reading, shopping, binge watching Netflix, interior design, watching movies, trying new restaurants, photography, and spending time with her fur baby, Ava.
Tierra's post-residency interests include women's mental health, underserved/minority communities, mentoring/graduate medical education, general psychiatry, forensic psychiatry, and telepsychiatry.
Contact: tsimmons@msm.edu
PGY-III
PGY-II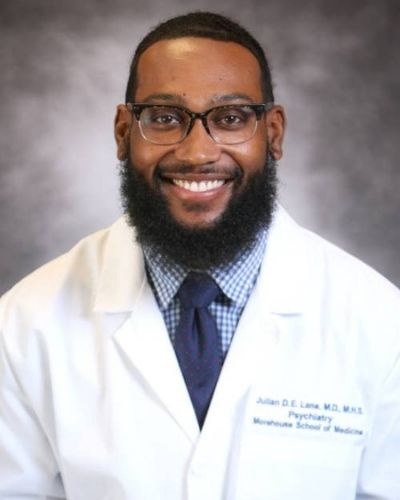 Dr. Julian Lane
Resident
Dr. Julian Lane earned his Doctor of Medicine from Howard University College of Medicine, in Washington, DC. He earned his Master of Health Science in Biochemistry and Molecular Biology from the Johns Hopkins Bloomberg School of Public Health and his Bachelor of Science in Neuroscience from Johns Hopkins University in Baltimore, MD.
Born in St. Agnes Hospital in Baltimore, MD, he remained a resident of Maryland until the time he began his residency training. He was the trailblazer for his family, serving as a first-generation college and masters graduate, as well as a first-generation physician. He recognizes the distinct need for physicians desiring to serve the underserved. He plans to dedicate his career to the uplift of black communities through mental health services, mentorship, community outreach and building a pipeline to increase the number of black men entering the field of psychiatry.
He believes that the true quality of life begins the moment we choose to live, regardless of circumstance. He enjoys Rubik's cubes, graffiti art, embracing life, connecting with people, being in nature, and recreating his favorite comfort foods at home with his air fryer.
Contact: jdlane@msm.edu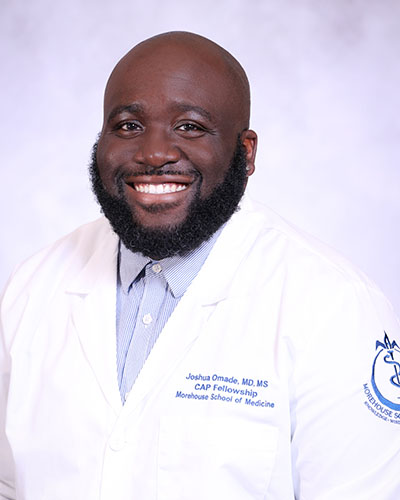 Dr. Joshua Omade
Resident
Dr. Omade was born and raised in the DMV where he attended the University of Maryland College Park for his Bachelor of Science in Cell Biology as well as his Master of Science in Physiology from Georgetown University. He completed his medical school training at Boonshoft School of Medicine at Wright State University.
Throughout his years of schooling Josh has been dedicated to professionalism, mentorship, and cultivating a healthy learning environment as recognized through his community service involvement and awards such as his induction into the Gold Humanism Honor Society. In medicine, Josh is passionate about serving the underserved especially globally. Josh is a proud son of a Nigerian immigrant and hopes to integrate western medicinal practice with the cultural norms and healthcare found in his father's land. In psychiatry, Josh hopes to one day further his training as a CAP fellow as he is fervent in his desire to work with the vulnerable pediatric populations and with early intervention.
Outside of work, Josh has a wide variety of interests. He loves sports both as a former rugby player and as fan of professional basketball, football, and European soccer. Josh is a longtime competitive gamer and enjoys building and modifying computers and personal tech.
Contact: jomade@msm.edu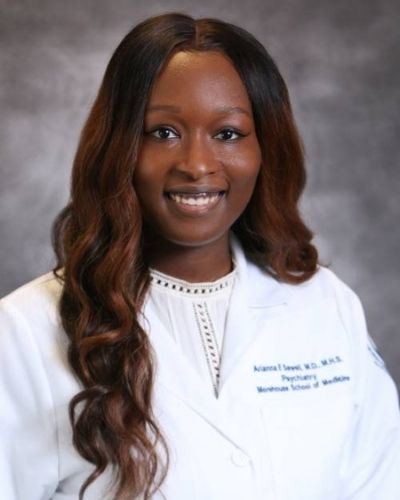 Dr. Arianna Sewell
Resident
Dr. Arianna Sewell, MD, MHS was born and raised in New Orleans, Louisiana. She obtained her Bachelor of Science in Public Health from Dillard University where she graduated Magna Cum Laude. Her desire to become a psychiatrist first began as a young child, where her quiet demeanor often allowed her to observe others and often wonder why people behaved in certain ways. This desire was fueled by the devastation of Hurricane Katrina and the increased Post Traumatic Stress Disorder she witnessed in her community and peers.
Along her journey to become a physician, she obtained a Master's in Health Science where she graduated at the top of her class. She then went on to excel at Meharry Medical College where she emphasized working with the underserved population by serving as the Outreach Coordinator for the student-run clinic as well as advocating for mental health awareness as Vice President of the Lloyd C. Elam Psychiatry Club. She is excited to continue being of service to the underserved population throughout her Psychiatry residency training at Morehouse School of Medicine. Dr. Sewell ultimately strives to eliminate the stigma of mental health care that often plagues the black community. Her current interests in psychiatry include forensics as well as child and adolescent psychiatry.
In her free time, she enjoys drawing, painting, sculpting, completing 3,000+ piece jigsaw puzzles, and watching true crime documentaries.
Contact: asewell@msm.edu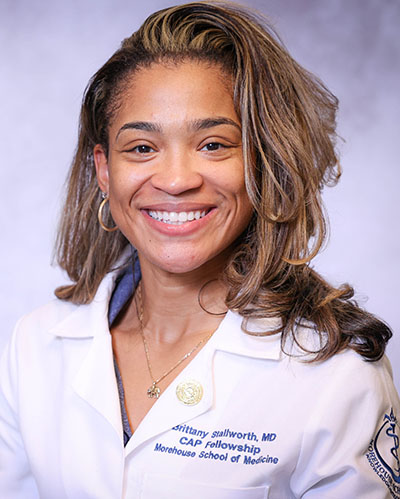 Dr. Brittany Stallworth
Resident
Dr. Stallworth is a native of Detroit, Michigan. She attended Howard University where she earned her Bachelor of Science in Biology along with several awards including The Brower Youth Award for her work in Environmental Justice advocacy. After college, she participated in a highly competitive post-baccalaureate fellowship program at the National Cancer Institute before matriculating into medical school at Wayne State University School of Medicine.
While in medical school, Dr. Stallworth earned the nickname "Dr. Fit Britt" after she created a successful fitness business that encourages people to use working out as a form of medicine to improve mental, emotional, and physical health. She hopes to seamlessly combine her passion for using fitness as medicine with her interests in child and adolescent psychiatry and psychosomatic medicine throughout her career.
Outside of medicine, Dr. Stallworth enjoys spending time with her family, working out, exploring new restaurants, and participating in community service projects as a proud member of Delta Sigma Theta Sorority, Inc.
Contact: bsjackson@msm.edu
PGY-I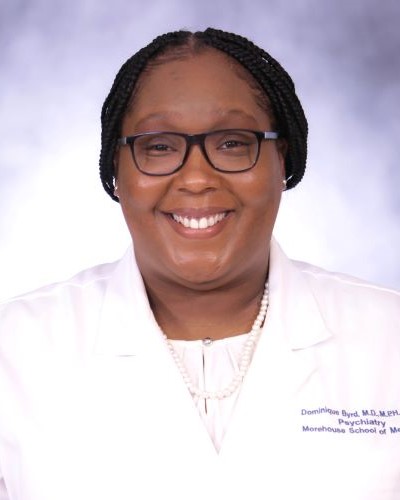 Dr. Dominique Byrd
Resident
Dominique Byrd was born in Los Angeles, CA. She obtained her undergraduate degree in pre-med Biology from Xavier University of Louisiana. She went on to obtain her Master's in Biological Sciences from Southern University and A&M University. She subsequently became a high school science teacher and softball coach in the New Orleans Public School system. While teaching, she obtained her Master's in Educational Leadership before deciding that medical school was still a dream she wanted to pursue. Dominique was admitted to the MEDPREP post-baccalaureate program at Southern Illinois University and simultaneously obtained a Master's in Public Health while applying to medical school. She completed her medical education at Boonshoft School of Medicine at Wright State University in Dayton, OH.
Dominique's interest in psychiatry began while she was a high school teacher. The students she worked with often had a high number of adverse childhood experiences that impeded their ability to learn. She then learned about the extremely low number of African American psychiatrist in the country and realized that her pursuit of medicine had to include the ability to help children in underserved and underrepresented communities. Dominique's professional interest include Child and Adolescent Psychiatry and Interventional Psychiatry.
In her free time, Dominique enjoys spending quality time with her husband, family, and friends watching true crime documentaries, working on puzzles and playing adult rec softball.
Contact: dbyrd@msm.edu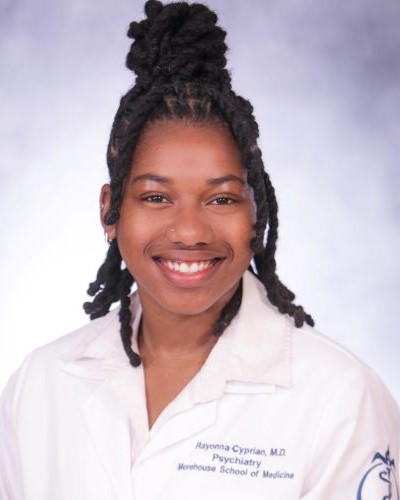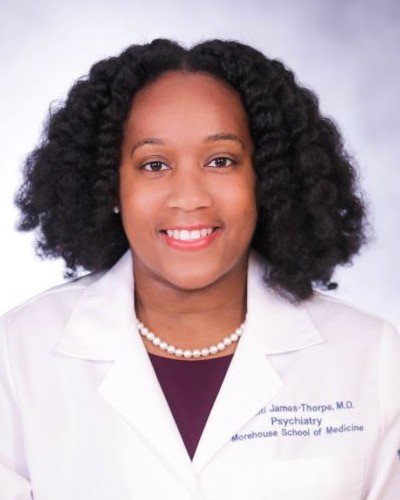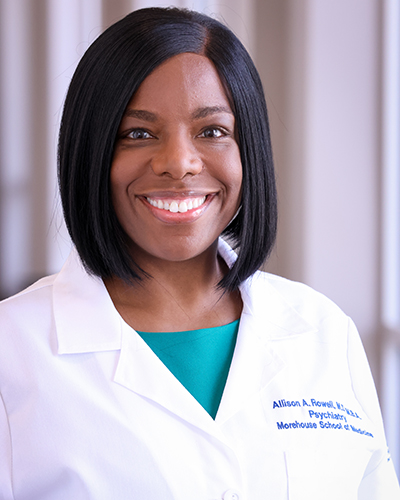 Dr. Allison Rowell
Resident
Dr. Allison Rowell was born and raised in Atlanta. Her interest in medicine and business guided her early academic and professional pursuits. She graduated from Georgia Tech with a Bachelor of Science in Management and worked in Corporate America for several years.
After leaving the corporate world, she earned her Bachelor of Science in Nursing from Mercer University and worked as a Registered Nurse. Dr. Rowell decided to pursue her lifelong dream of becoming a physician and received her medical doctorate from Morehouse School of Medicine. During medical school, she earned her MBA from Georgia Tech and received a full fellowship to their inaugural MD/MBA program. Dr. Rowell's current interests in psychiatry are women's mental health and reproductive/perinatal psychiatry.
Outside of medicine, Dr. Rowell enjoys spending time with her family, teaching her dog Blu new tricks, going to concerts, and listening to books on Audible.
Contact: arowell@msm.edu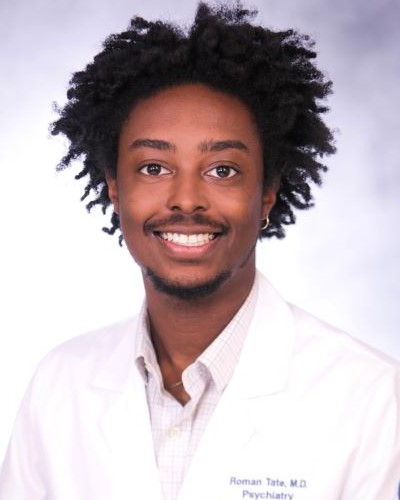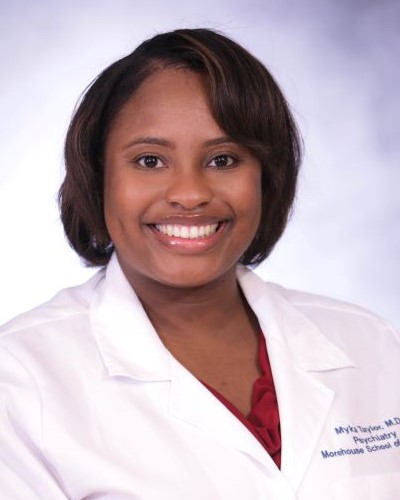 Dr. Myka Taylor
Resident
Dr. Taylor was born and raised in New Orleans, LA. She received her Bachelor of Science degree in Psychology with minors in Biology and Chemistry at Xavier University of Louisiana. Shortly after college, she was employed as a mental health technician on an inpatient behavioral health unit. She then went on to receive her medical degree from Meharry Medical College.
Her journey to psychiatry began when she was in high school. She took a psychology course that piqued her interest in the field. Her desire to understand how both the brain and body function, and ultimately what makes people who they are, led her to pursue a career in medicine.
Dr. Taylor's interests include community psychiatry, reproductive/perinatal psychiatry, and psychotherapy. She hopes to utilize a biopsychosocial approach in order to provide the best patient care. She is also dedicated to working with underserved minorities and extremely passionate about reducing stigma regarding mental health within the community.
Outside of medicine, her interests include reading, binge-watching movies/TV shows, traveling, and discovering new activities, recipes, and restaurants to enjoy with loved ones.
Contact: mtaylor@msm.edu