Meet the Director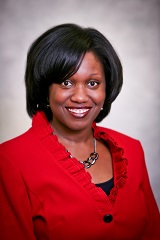 Tabia Henry Akintobi, PhD, MPH is Professor of Community Health and Preventive Medicine, Dean of Community Engagement, and Principal Investigator and Director of the Prevention Research Center. Germane to these efforts is her demonstrated excellence in community-based participatory research, community-engaged public health practice and experiential learning among trainees across the health professional career development pipeline. She received her Bachelor's degree from the University of Miami and earned both a Master's of Public Health and Doctorate of Philosophy in Public Health from the University of South Florida's College of Public Health.
As Principal Investigator of the Centers for Disease Control and Prevention-funded Morehouse School of Medicine Prevention Research Center Dr. Henry Akintobi demonstrates leadership in local, national and global community-engaged clinical and translational evaluation and research collaborations and methodologies addressing health disparities, thereby contributing to related science and practice. She leads or collaborates in several federal (CDC, OMH, NIH) and privately-funded initiatives that model community-driven research, including but not limited to the Georgia Clinical and Translational Science Alliance (formerly Atlanta Clinical and Translational Institute's Community Engagement and Research Program) and The Exploratory Center of Excellence on Health Disparities. Her public health leadership is also evident through appointments to national taskforces designed to shape the science and practice of effective community-based participatory- and translational-research and collaborations bridging the gaps between basic, clinical and community-based stakeholders to address disparities and advance health equity. Among them include the National Institutes for Health National Center for Advancing Translational Sciences Collaboration and Engagement Taskforce Lead Team, designed to advance team science towards becoming a major academic model in more equitable community-academic partnership -from research conceptualizing to dissemination.
Dr. Akintobi's leadership is demonstrated through local, national and global clinical and translational research, training, and service initiatives addressing social and public health disparities and advancing health equity. Her repertoire of effective collaboration is evidenced by several federal grants where she serves as principal investigator or primary collaborator. She is also central to noteworthy research infrastructure grants, including the Atlanta Clinical and Translational Institute Community Engagement and Research Program and the Exploratory Center of Excellence on Health Disparities, where she leads community engagement key functions central to ensuring bi-directional research translation between communities and academic researchers. She is a regularly invited speaker and lecturer and has received several awards for outstanding public health research leadership and teaching. Dr. Akintobi conducts these activities incorporating her expertise and dedication to effective community-engaged research, social marketing and participatory evaluation.