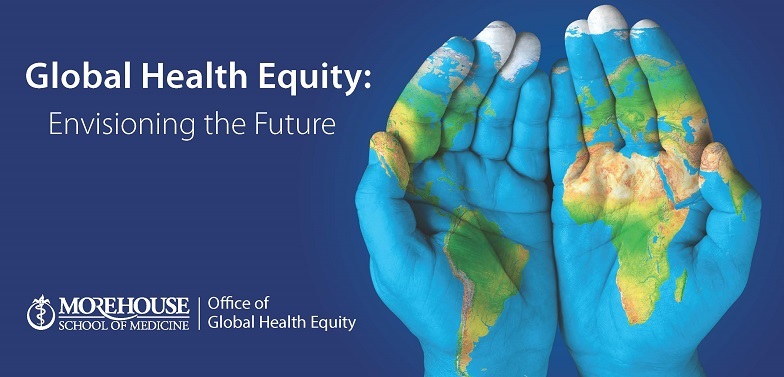 Global Health Education Programs
Office of Global Health Equity through its quarterly lecture series, is continuing to advance its efforts towards implementing the strategic vision of charting the future direction for global health education, research, and service towards the ultimate end of advancing global health equity.
Morehouse School of Medicine's Office of Global Health Equity (OGHE) is pleased to announce an exciting funding opportunity to support global health learning experiences for students, staff and faculty at MSM. Under this announcement, the OGHE is soliciting proposals for small grants intended to support projects/experiences aimed at applying innovative solutions towards global health and development challenges impacting resource-constrained settings. These small grants will provide funding to support short-term global health engagements and may be eligible for renewal based on favorable progress on identified project goals and availability of funding. Click here to apply today!
The 2018 Tanzania Global Health Initiative was created by the faculty and medical students of the Morehouse School of Medicine's 'Compassion' Learning Community' and is a collaborative experiential elective for medical and biomedical trainees to: (1) provide primary and acute care working alongside both US and Tanzanian healthcare providers, (2) learn about and share cultural experiences with one another and Tanzanian community members, and (3) understand and then apply the fundamental principles necessary to conduct community based health service research in a rural and resource challenged environment.
This project was made possible through a unique partnership between Morehouse School of Medicine's Office of Global Health Equity, a U.S. based Pediatric Emergency Medicine group, and a U.S. based nongovernmental organization (UboraTZ) dedicated to improving the health, education, and wellness of the children living in rural Tanzania. The faculty lead of the initiaitve is Lilly Immergluck, MD, MSCR, FAAP, Associate Professor of Microbiology & Pediatrics and the Director of the Pediatric Clinical & Translational Research Core at the Clinical Research Center at Morehouse School of Medicine. She is also an adjunct Associate Professor of Pediatrics at Emory University.
The goal of the MSM/HU MHIRT program is to expose and successfully train undergraduate, graduate and medical students for transition into biomedical and behavioral research careers, with emphasis on research that focus on global infectious disease and pathogenesis, genome mapping, biomarker discovery, and the study of diseases that disproportionately affect African and African American populations. The specific objectives of the MSM/HU MHIRT program are to train and provide innovative research opportunities for highly qualified underrepresented minorities.
The UJMT Fogarty Global Health Fellowship supports mentored research training opportunities for promising postdoctoral fellows and doctoral students. Sponsored by the Fogarty International Center – as well as other institutes, centers and offices at the NIH – our program provides stipend, research, and travel for 12-month research attachments. Trainees live and work full-time at affiliated research sites in Africa, Asia, and Latin America. Our consortium brings together four leading U.S. institutions (*University of North Carolina at Chapel Hill, Johns Hopkins University, Morehouse School of Medicine, Tulane University) and partnering institutions in 13 countries.