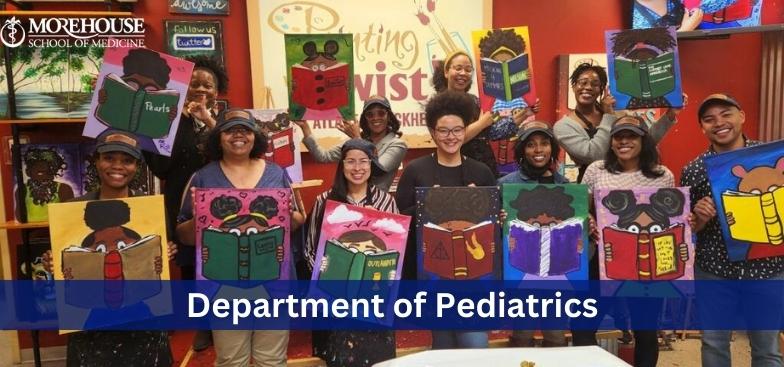 Department Highlights
Our department engages in numerous academic and community-based activities throughout the year. Whether we are engaging as a department or individually, our commitment to professional development and community service unites us. Take a look at some of our community engagement, professional development, and wellness highlights.
Faculty and Residents Speak at National NMA Conference | July-August 2022
The Department of Pediatrics was well represented as we had robust participation at the NMA National Conference last year. The Pediatrics Residents represented their program with posters and oral case report presentations by Dr. Miranda Nortey, Dr. Tam Tran, Dr. Bhavana Nagareddy, Dr. Chyna Taylor, and Dr. Khadijah Haq. The pediatrics faculty were leading the way with oral presentations and workshops done by Dr. Jason Payne (Sickle Cell Disease Treatment), Dr. David Inwards-Breland (Dr. Lynn Gardner, Pediatrics Residency Program Director and Interim Department Chair and Psychiatry Interim Chair and CAP Fellowship Program Director, Dr. Sarah Vinson, took part in a panel discussion regarding integrated care and approaches to training the next generation of pediatricians using a model that combines the expertise of Pediatricians and Child and Adolescent Psychiatrists. Pediatrics adjunct faculty member, Dr. Kathi Earles, and Mark Griffiths gave presentations on Racial and Ethnic Disparities in Childhood Obesity and COVID 19 and Community Engagement respectively.
The sessions were moderated by Dr. Yasmin Tyler Hill, immediate past chair of the Department of Pediatrics and current Pediatrics Section Chair for NMA, and Dr. Yolanda Wimberly Immediate past DIO for GME and now adjunct faculty in the department of pediatrics.
Pediatrics Department Participates in Wellness and Welcome Event | August 2022
Each year the department faculty and staff as well as our families get together to celebrate the previous year and to get the new academic year off to a positive start. This year, we met at Top Golf for fun, food, and fellowship. A great time was had by all.
Pediatrics Department Participates in Annual Retreat | September 2022
To discover current state of the department and to cast vision for our future, the department spent 2 days away from clinical duties to learn more about each other. We discovered our professional and personal passions and are now allowing this to guide the approach to our collective service to children, especially those in underserved and marginalized communities.
MSM Pediatrics/OB/Psychiatry Faculty Participate in Reproductive Justice Seminar | December 2022
A reproductive Justice Seminar took place on December 2, 2022. MSM Psychiatry Interim Chair and CAP Program Director, Dr. Sarah Vinson was the lead organizer for the event. Dr. Lynn Gardner, Pediatrics Interim Chair along with Psychiatry Associate Residency Director Dr. Sheril Kalarithara, were 2 of the panelists. The seminar began with a Keynote Address by Professor Jill Morrison, JD, LLM, Director of the Women's Law and Public Policy Fellowship and visiting Professor of Law at Georgetown Law. This was followed by a multidisciplinary panel about various aspects of health and illness impacted by Reproductive Justice. The event concluded with local resource sharing and opportunities for informational exchange.
Pediatrics Residents Spend Time at the Capital as Advocates for Georgia's Children | February/March 2023
One of our signature residency rotations is the Advocacy block. The goal of the rotation is to provide learners with knowledge of the policy making process and the leadership skills needed to develop meaningful community partnerships and to inform policies to improve the health of their patients and communities. [Photo information- Pictured are Morehouse Pediatrics Residents: Drs. Hinds-Pereira, Reasor, and Joseph just outside the Georgia State Capital in Atlanta.
Pediatrics Faculty Give Presentation at 33rd Annual Conference on Breastfeeding | March 2023
Morehouse faculty member, Dr. Marche Smith will give a presentation entitled "Assessing Breastfeeding Documentation Among Providers" at the Annual Conference on Breastfeeding sponsored by Emory University School of Medicine and Children's Healthcare of Atlanta.
Pediatrics Faculty Accepted to the 2023 Clinical Addiction Research and Education CARE Faculty Scholars (CFS) Programs in Addiction Medicine | April 2023
This program aims to equip participants with the tools needed to create, implement, and evaluate addiction medicine programs and curricula through completion of a year-long Addiction Medicine Enhancement Project. The target audience for the CARE Faculty Scholars Program is residency program and medical school leadership and faculty in primary care-based specialties (e.g., internal medicine, family medicine, pediatrics, OB/GYN), psychiatry, and emergency medicine.
Pediatrics Faculty Present Workshops at Annual COMSEP Conference | April 2023
MSM Pediatrics Faculty Drs. Latasha Bogues and Lori Singleton are presenters/facilitators at several workshops at the 2023 COMSEP National conference. Dr. Singleton's workshop is entitled "Creating or Optimizing a Visiting Elective at Your Institution for URIM Students: Best Practices and Pitfalls" and Associate Clerkship Director, Dr. Bogues' 2 workshops are entitled "Building resilience in Medicine" and "Navigating Professional Identity Development in our Learners".