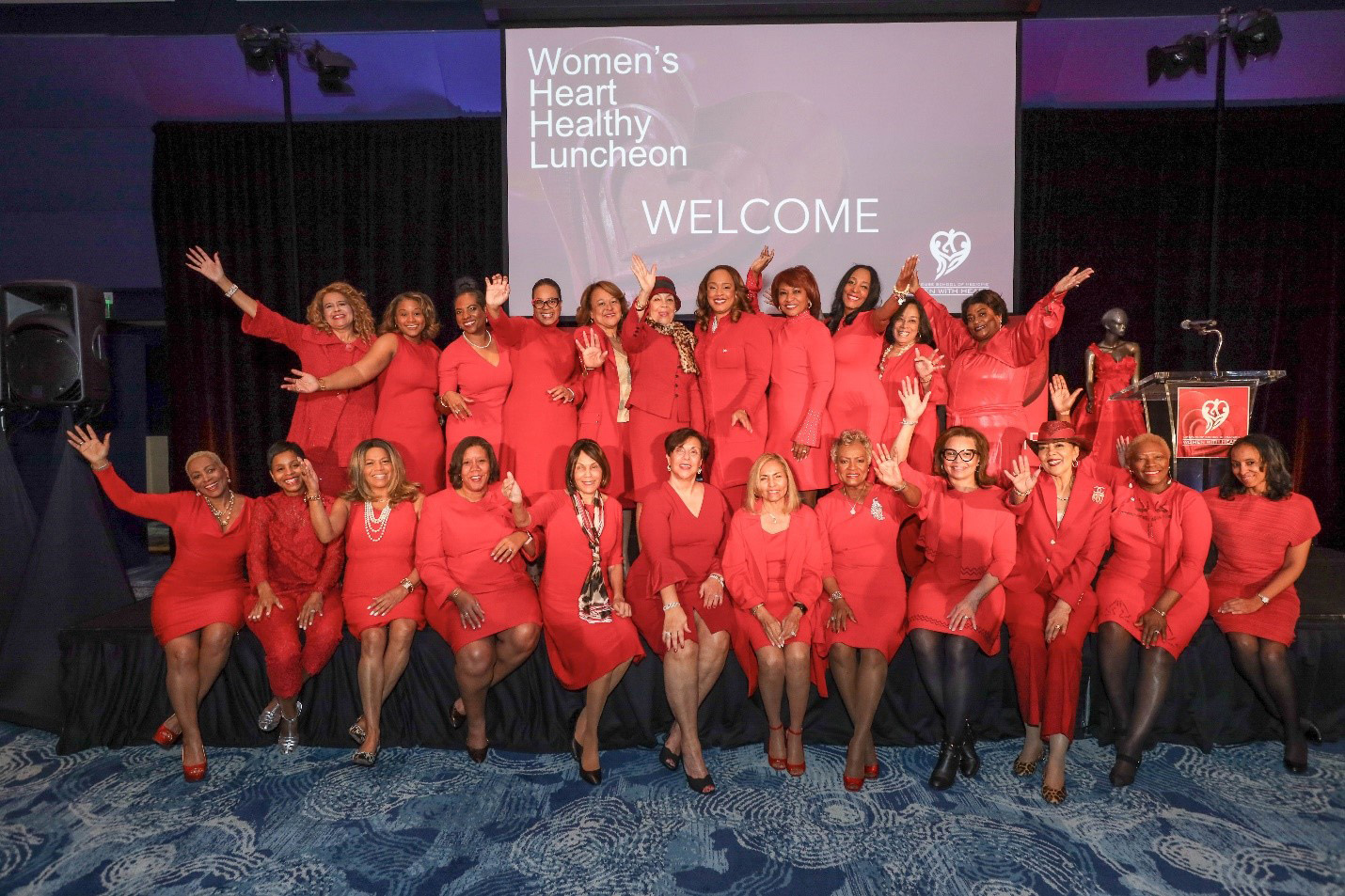 Women With Heart
In 2009, former Morehouse School of Medicine (MSM) first lady Eilene Maupin gathered a group of friends to create something special for MSM students, the institution and the metro Atlanta community. They created the Women With Heart Initiaitve and launched their first Heart Healthy Week.
The goals of the Women With Heart Initiative are to:
Raise student scholarship funds.
Promote healthy lifestyles.
Increase community awareness about heart health and cardiovascular disease, particularly among women of color.
Over the last 10 years, MSM's Women With Heart Initiative and its gracious donors have provided $1.25 million in scholarship support awards to MSM students, which account for 158 scholarships. The average scholarship award through the Eilene Maupin Women With Heart Scholarship is almost $8,000 per award.
Learn more about the heart disease disparities and the critical need to train the next generation of healthcare leaders.
2020 Women's Heart Healthy Luncheon

2020 Men's Heart Healthy Breakfast

Arthur Vaughn shares his transplant story at the 11th annual Women With Heart men's breakfast.

From Road Race to Heart Transplant in Three Weeks

Cardiac Survivors Share Stories during 11th Annual Heart Healthy Week, $300K Raised for Scholarships

Imagine finishing one of the world's premier road running races for the eighth straight year. Now imagine waking up three weeks later with someone else's heart beating in your chest.

That was the reality for Arthur Vaughn, who received a heart transplant just a few weeks after completing Atlanta's famous Peachtree Road Race on July 4, 2019.

Six days after the race, the former Morehouse School of Medicine executive director of finance and operations was at home when he began experiencing odd pains and sensations along with difficulty breathing. Like many men, he downplayed the symptoms. Only after he was almost completely incapacitated did he finally go to the St. Joseph's Hospital emergency room. There he learned that he was suffering from acute heart failure brought on by giant-cell myocarditis, a rare, rapidly progressive and frequently fatal heart disease. The only option to save his life was a transplant.

If you know anything about transplants, be they heart, liver, kidney or whatever, patients usually have a lengthy wait before a donor organ becomes available. The national transplant registry prioritizes potential recipients based largely on the severity of their illness. Vaughn was so sick he immediately went to the front of the line. Fourteen days after doctors declared him eligible a new heart became available. Today, after months of recovery and rehabilitation along with a lifetime drug regimen, he is enjoying life once again, running, playing golf, spending time with his daughters, and writing a soon-to-be published book, "Survivor's Remorse," about his physical and emotional journey.

Vaughn shared his story during the Women With Heart's men's breakfast kicking off the 11th annual Heart Healthy Week Feb. 4-7. He discussed his transplant, recovery and lessons learned with MSM's Dr. Herman Taylor and Dr. Paul Douglass, as luminaries such as former U.S. Ambassador Andrew Young and baseball legend Henry Aaron looked on from the audience.

Karyn Greer, CBS46 news anchor and investigative reporter, once again served as host for the women's luncheon the next day, which featured three survivors. There was Adrienne Hudson-Morgan, who suffered a cardiac embolism – a blot clot that travels to the heart – in her 20s. Sherry Kinard, who developed peripartum cardiomyopathy – an uncommon form of heart failure that happens during the last month of pregnancy or shortly after giving birth – 17 years ago. And Shirley Rice, who felt a sharp pain in her chest while performing a solo in church that lead to quadruple bypass surgery in February 2016.

By sharing their stories, the survivors hope people learn from their widely varying cardiac experiences, women in particular. Heart disease is actually the number one cause of death among women—and African American women—today. In fact, since the mid-1980s, more women than men have succumbed to heart disease every single year. The basic message throughout the week: Exercise, eat healthy, know your numbers (cholesterol, blood pressure, glucose levels, etc.) and most important, do not ignore symptoms. If something feels off, better to check with a physician and be wrong than ignore them and be right, possibly dead right.
2020 Senior Health Fair