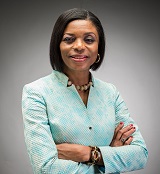 Ngozi F. Anachebe, Pharm.D, M.D., F.A.C.O.G.
Senior Associate Dean
Admissions & Student Affairs

Associate Professor
Clinical Obstetrics & Gynecology
Phone: (404) 752-1651
E-mail: nanachebe@msm.edu
Education
POSTGRADUATE:
Morehouse School of Medicine
Residency: Obstetrics/Gynecology

MEDICAL SCHOOL:
Morehouse School of Medicine
Degree: Doctor of Medicine

GRADUATE:
Mercer University Southern School of Pharmacy
Degree: Doctor of Pharmacy
Research Interests
Disparities in Women's Health and Cervical Cancer
Clinical Interests
Pharmacotherapy
Menopausal care
Pregnancy prevention
Normal and high risk Obstetrics
Abnormal uterine bleeding, and obesity
Specialties
Obstetrics and Gynecology
Board Certification
American Board of Obstetrics & Gynecology
Publications
AAMC Careers in Medicine Summer 2012 Choices e-newsletter. Ask the Advisor: Securing Letters of Recommendation

Reynolds S, White K, Anachebe N, Sanders D, Geary F. Association of Obesity with a Higher Risk of Operative Delivery in Pregnant Adolescents at Grady Memorial Hospital. Obstetrics and Gynecology, 2008:111(4):S1-1135.

Anachebe NF. Racial and ethnic disparities in infant and maternal mortality. Ethn Dis, 2006;16(2):S3-71-S3-76

Anachebe NF, Sutton MY. Racial disparities in reproductive health outcomes. American Journal of Obstetrics and Gynecology, 2003:188(4) S37-42.
Honors and Awards
2020: Outstanding Advisor of the Year Award from the MD Class of 2020, Morehouse School of Medicine, Class Day, May 15, 2020.
2019: Leadership Award, National Medical Association Region III Conference, Birmingham, AL April 26, 2019
2019: Outstanding OB/GYN Faculty Member Award from the Graduating MD Class of 2019, Morehouse School of Medicine Faculty Appreciation Gala, April 6, 2019.
2018 Mentor of the Year, District IV, American College of Obstetricians and Gynecologists
2015: Outstanding Advisor Award from the MD Class of 2015, Morehouse School of Medicine, Class Day, May 15, 2015
2015: Most Influential Clinical Faculty Member from Morehouse School of Medicine MD Students, Faculty Appreciation Gala, May 1, 2015
2014: Advisor of the Year from the MD Class of 2014
2014: GEBS Most Caring Person Outside of the GEBS Program
2013: GEBS Award for Dedication to Student Excellence
2013: Award for Dedication to Student Excellence from the MD Class of 2013
2012: Distinguished Alumnus award, Morehouse School of Medicine National Alumni Association
2010: Faculty Appreciation Award from the MD Class of 2010
2009: Advisor of the Year Award from the MD graduating Class of 2009, Morehouse School of Medicine, Class Day, May 15, 2009
2009: Faculty Appreciation Award for "consistently going above and beyond the call of duty to provide Learning experiences that are meaningful and memorable" by the MD Class of 2009, Faculty Appreciation Gala, Morehouse School of Medicine, March 2009
2009: Faculty Appreciation Award by the MD Class of 2010 for excellence, service, and dedication to medical education, Faculty Appreciation Gala, Morehouse School of Medicine, March 2009
2008: Certificate of Appreciation for dedication to excellence in medical education and clinical training by the MD Class of 2009, Faculty Appreciation Gala, Morehouse School of Medicine, March 21, 2008
2008: Outstanding Faculty Award for excellent service and dedication by the MD Class of 2008, Faculty Appreciation Gala, Morehouse School of Medicine, March 21, 2008
2007: Outstanding Faculty Award in recognition of the exemplary services rendered to the MD Class of 2007, Faculty Appreciation Gala, Morehouse School of Medicine, March 2007
2007: Recognition for guidance and mentorship by the MD Class of 2008, Faculty Appreciation Gala, Morehouse School of Medicine, March 2007