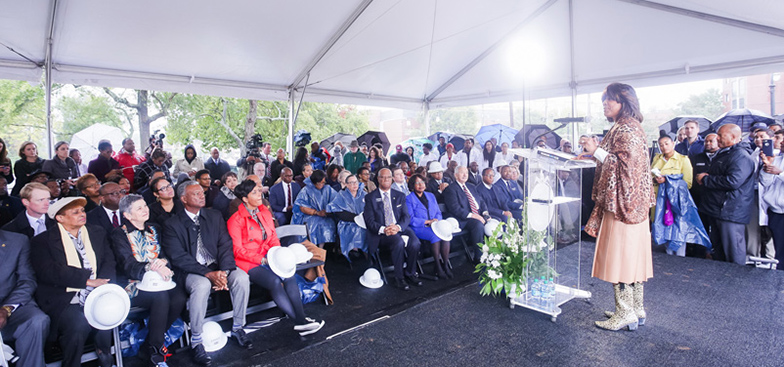 Morehouse School of Medicine and Carter Celebrate Lee Street Campus Groundbreaking
New $52 Million Mixed-Use Project will Accommodate Strategic Growth at School
For More Information, Contact
Sarah Weston
The Wilbert Group
sweston@thewilbertgroup.com
ATLANTA (October 26, 2018) – Morehouse School of Medicine (MSM) and Carter officially broke ground today on the first phase of a new 7.2-acre mixed-use development. The development will include the first-ever graduate student housing units on the MSM campus, comprising 187 units through a combination of studio, one- and two-bedroom offerings. This mixed-use development will also include a 25,000-square-foot ambulatory health facility, a 9,000-square-foot fitness/wellness center, 2,500 square feet of retail space and a four-level parking deck at the corner of Lee Street and Westview Drive.
Last year, MSM announced a partnership with Carter and Oakwood Development to expand the school's campus as it recognized the need for quality apartments nearby. Construction is scheduled for completion in time for the 2020 school year. This more than $52 million mixed-use development will provide a new gateway to the Atlanta University Center, in Atlanta's Historic West End.
"MSM is dedicated to improving the health and well-being of individuals and communities, while also increasing diversity in the health profession and scientific workforce," said MSM President and Dean Valerie Montgomery Rice, MD, FACOG. "For more than five years, about 65 percent of our resident graduates have elected to practice in Georgia, showing their commitment to our vision and the improvement of healthcare in our State. We are confident this new development will serve as a vibrant living and learning community that will attract and retain, particularly, students and our graduates, to come and remain in Georgia."
Ranked first in social mission, a role emphasized as critical to improving the country's overall healthcare, MSM has been recognized by the Association of American Medical Colleges (AAMC) for leadership in primary care training. In September of this year, MSM welcomed the largest class in the school's history, including 100 M.D. students.
"We are thrilled to be partnering with the Morehouse School of Medicine on this Class A mixed use development," said Scott Taylor, president and CEO of Carter. "We believe this project will anchor the southern gateway to the AU Center and the Westside of Atlanta while catalyzing more activity in the area."
The ownership joint venture for the project includes equity investments by the Morehouse School of Medicine, Carter, and Campus Life Fund, sponsored by Atlantic American Partners. Construction financing is being provided by First Citizens Bank. The construction financing was secured by Patterson Real Estate Advisory Group.
# # #

About Morehouse School of Medicine
Morehouse School of Medicine (MSM), located in Atlanta, Ga., was founded in 1975 as the Medical Education Program at Morehouse College. In 1981, MSM became an independently chartered institution. MSM is among the nation's leading educators of primary care physicians and was recently recognized as the top institution among U.S. medical schools for our social mission. Our faculty and alumni are noted in their fields for excellence in teaching, research and public policy.
About Carter
As one of the country's most active developers, Carter has major mixed-use, multi-family, office and educational projects under construction around the U.S. Carter is currently executing mixed-use projects totaling in excess of $350 million in Atlanta's Southside at Summerhill, the MET, and the Morehouse School of Medicine.
About First Citizens Bank
Founded in 1898, First Citizens Bank is the largest family-controlled bank in the U.S., with 14 locations in the greater Atlanta area and more than 500 branches in 19 states. Drawing from over a century of experience serving the needs of individuals, families, businesses and the medical community, First Citizens focuses on developing long-term relationships and offers a comprehensive array of products and services. Headquartered in Raleigh, N.C., First Citizens Bank is a wholly owned subsidiary of First Citizens BancShares Inc. (Nasdaq: FCNCA), which has $35 billion in assets. For more information, call toll free 1.888.FC DIRECT (1.888.323.4732) or visit www.firstcitizens.com. First Citizens Bank. Forever First®
---
Live Stream
Note: Flash must be enabled on your browser. View live stream on Multivista.