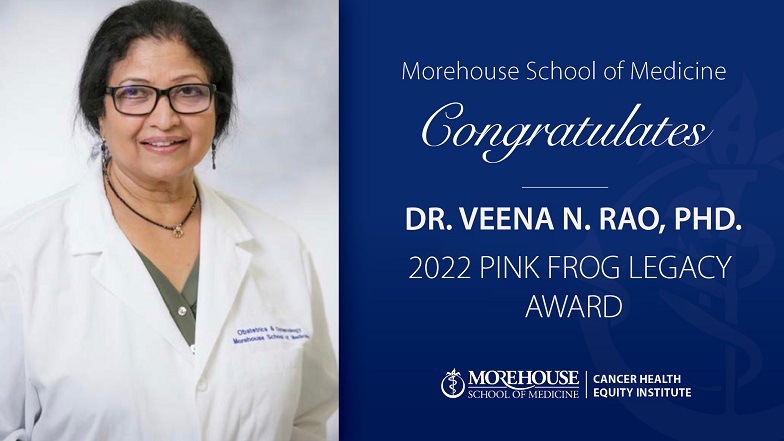 MSM Professor Dr. Veena N. Rao to Receive Pink Frog Legacy Award from the Pink Frog Foundation
Co-director of MSM Cancer Biology Program honored for breast cancer research.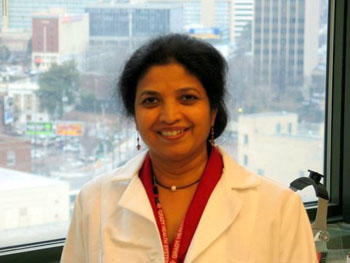 Dr. Veena N. Rao
Co-director of MSM Cancer Biology Program
ATLANTA – OCTOBER 14, 2022 – Morehouse School of Medicine (MSM) is proud to announce that Veena N. Rao, PhD, professor and co-director of the Cancer Biology Program, has been selected to receive the 2022 Pink Frog Legacy Award from the Pink Frog Foundation at its 10th Annual Pink Frog Affair on Friday, October 14. The organization said it chose to honor Dr. Rao for her longstanding research on breast cancer.
Founded in 2012, the Pink Frog Foundation, Inc. is a registered 501c3 non-profit organization dedicated to providing support to breast cancer patients. In addition, the organization strives to provide emotional, social, and educational programming and to increase public awareness about the special needs and issues facing individuals with breast cancer.
Dr. Rao is a Professor in the Department of Obstetrics and Gynecology at Morehouse School of Medicine and also serves as co-director of the MSM Cancer Biology Program. She is also a Georgia Cancer Coalition Distinguished Cancer Scholar at MSM. Her research focuses on the BRCA1 gene and its role in breast and ovarian cancer in diverse populations, including triple negative breast cancers (TNBC) that are more prevalent in African American women, are highly aggressive, and have higher rates of metastasis.
She has obtained a patent for BRCA1 function-based assays, which can be used to stratify risk for TNBC in women who carry BRCA1 mutations and can also be used to develop targeted therapy for TNBC, a disease which currently has no mechanism-based precision treatments available. This technology when fully developed combined with BRCA1 genetic testing will revolutionize early detection for hereditary TNBC. Not to mention, the countless lives it will save through early detection of these aggressive cancers, thus reducing the mortality in African American women, leading to health equity in line with MSM's mission.
Dr. Rao earned her PhD in Biochemistry from Osmania University in India and completed part of her thesis work at Massachusetts Institute of Technology, Max Planck Institute, and University of Edinburgh. She completed fellowships in human genetics at Yale University School of Medicine and molecular biology at University of California, Berkeley, as well as being the Fogarty International Visiting Fellow studying Molecular Oncology at the National Cancer Institute. Dr. Rao received Bachelor of Science and Master of Science degrees from Osmania University.
For more information about Morehouse School of Medicine, please visit MSM.edu.
About Morehouse School of Medicine
Founded in 1975, Morehouse School of Medicine (MSM) is among the nation's leading educators of primary care physicians, biomedical scientists, and public health professionals. An independent and private historically-Black medical school, MSM was recognized by the Annals of Internal Medicine as the nation's number one medical school in fulfilling a social mission — the creation and advancement of health equity. MSM faculty and alumni are noted for excellence in teaching, research, and public policy, as well as exceptional patient care. MSM is accredited by the Commission on Colleges of the Southern Association of Colleges and Schools to award doctoral and master's degrees. To learn more about programs and donate today, please visit MSM.edu or call 404-752-1500.
Contact
Jamille Bradfield
Morehouse School of Medicine
jbradfield@msm.edu