Joseph A Tyndall, MD, MPH, FACEP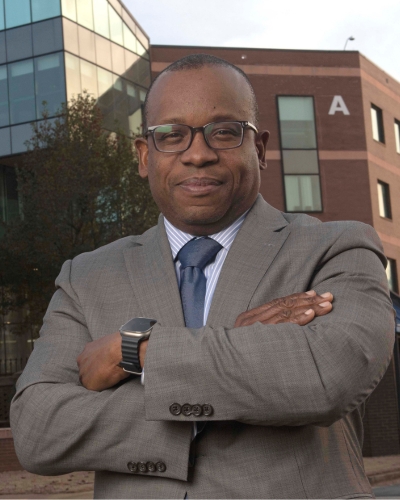 Dear Colleagues, Friends, Family and the
Community of Morehouse School of Medicine,
As I journey through my second year at Morehouse School of Medicine, I have become even more committed than ever to the vision and the promise that our institution brings to the community, locally and globally. As we hold steadfast to our commitment to lead the creation and advancement of health equity that has embodied our mission from inception, we continue to witness events throughout our communities that highlight more than ever the reasons we exist — improving the health and well being of individuals and communities, increasing the diversity of our health professional and scientific work force, and addressing healthcare delivery through education, research and service with an emphasis on people of color and those underserved both in rural and urban populations.
In late 2022, the city and region of Atlanta experienced profound disruptions in health care access with the closure of two hospitals serving predominantly minority and urban populations. This has exacerbated the already underlying health care crisis of disparities within our region, for example, adding to the trends of increasing risks of maternal mortality that have been reflected across the country. Our healthcare delivery systems are even more pressured to deliver equitable care. Not unlike the pandemic, these events continue to demonstrate that health equity efforts across the nation continue to grow. In addition, we have the crisis of the diversification of our healthcare work force, the mental health issues that continue to burden our learners and our healthcare providers, and even more evidence to show that investments in scientific research that impact our broader community but especially communities of color, is an ever-present concern.
However, Morehouse School of Medicine's growing presence and contributions in critical areas of need across the spectrum of health are the themes celebrated in this annual report. Indeed, we have engaged in several new partnerships in the clinical, education, and research arenas that have the promise of profound impact. Our presence as a trusted member and pillar of service, engaged and interwoven in the communities we serve, is a competitive advantage in delivering on a promise of better health. We continue to attract gifted scientists in the areas of genomics, cancer, and clinical research. We continue to recruit high-impact clinicians and are carefully expanding our ability to more effectively deliver high quality care to our community. This past year, there have been many recognitions of our collective leadership and advances in our education enterprise as we continue to carefully grow and foster all of our degree granting programs, with continued acknowledgments especially of our MPH and Physician Assistant educational programs. Our post graduate clinical training programs continue to grow with outstanding leadership and stewardship, and our wide ranging education and research collaborations with
CommonSpirit Health, especially in developing undergraduate medical education campuses and GME training programs, continue to expand.
Morehouse School of Medicine is on a trajectory of growth and excellence. We are building a foundation of sustainability and I will continue to dedicate myself to the future promise of our impact. I want to sincerely thank the MSM Community, especially our clinicians, scientists, teachers, donors, and learners, for believing in this mission and staying the course as we achieve it.
With sincere regards,


Joseph A. Tyndall, MD, MPH, FACEP
Dean and Executive Vice President
of Health Affairs